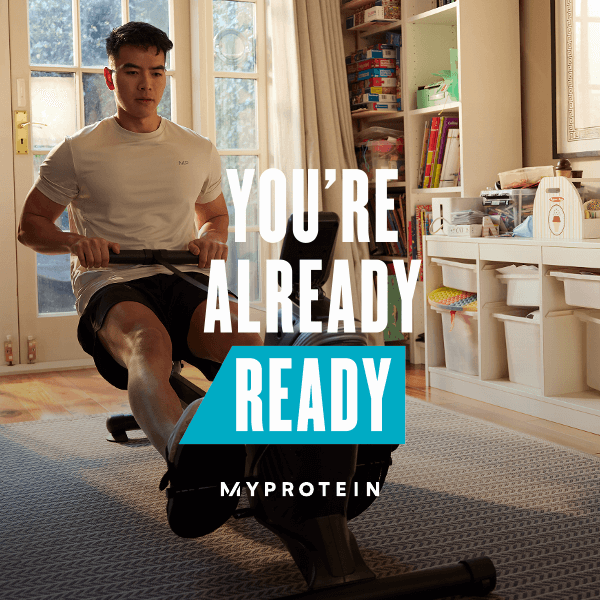 Get Your Own Bundle
Nutrition tailored to you.

Whether you're a dedicated gym-goer, run for fun or simply looking to live a healthier active lifestyle, build your own bundle to support your goal.

Training
Unlock your potential.

Advice from professionals on everything you need to start and sustain, supplement explainers to fuel your journey, workouts to keep you on track. All with our gym-ready training and nutrition plans.

Motivation
Music to motivate.
Playlists designed to support your goal, with tunes based on BPM for high-energy workouts, or slowed down songs for more controlled rhythm and mindfulness.
FAQs
For many, the new year is a great time to put in place new goals or challenges. Knowing what to choose and how to stick to them beyond January can be a challenge, so that's why it's important to make sure your goals are tailored to your specific needs and interests, and that they're attainable and realistic for you as an individual. You can also increase your chances of success by setting specific, measurable, realistic targets and giving yourself a reasonable timeline.
If you're in need of some guidance, we have a variety of plans to help you achieve your goals, whether it's building muscle, cutting fat, or improving your overall health. Our programmes provide structured support and cover everything from training to nutrition, so you can stay on track and reach your goals in the new year.

Start the new year off on the right foot by setting clear and structured goals, and following a simple plan filled with expert tips and advice from trained nutritionists and personal trainers. Our fitness guides can help you get started in the new year, with the support you need to succeed.

It's easy to get caught up in the excitement of setting goals at the beginning of the year, but it's just as important to keep yourself motivated throughout the rest of the year as well. Problem is, motivation can be a tricky thing to maintain. One way to stay motivated is by setting SMART (specific, measurable, attainable, realistic, and time-bound) goals. Here are some other helpful tips to keep you on track:
Plan and prepare in advance to set yourself up for success.
Use inspiring imagery to motivate you.
Create a playlist of energising songs to get you pumped up for your workouts.
Look back at your progress to see how far you've come and how much further you have to go.
Set smaller challenges for yourself along the way to keep things interesting.
Take photos of your progress to see the physical changes in yourself, not just the numbers on the scale.
Remember that slow and steady progress is still progress, so don't rush things.
There are loads of fitness goals to choose from, but it's crucial you choose one that you enjoy and works for you. Need some inspiration? We've pulled together a list of fitness goals you could try:
Building muscle.
Increasing strength.
Losing weight and reducing body fat.
Improving endurance and overall fitness.
Running a 5k, 10k, or marathon.
No matter what you decide to focus on, we have the resources and guidance to help you stay on track and reach your goals.
Setting goals can be challenging, but we're here to help. It's important to make sure your goals are specific to you, can be measured, are achievable and realistic, and you give yourself a feasible timeline to achieve them. We've got a variety of plans, no matter what they may be.

Choosing a goal for the year can be a tricky task, but don't worry! We've pulled together a list of popular goals and guides to help you reach them. The plans cover various fitness objectives, like weight loss and muscle building, so you can select one that fits your needs. Plus, you'll receive expert training and nutrition guidance to ensure your success in the coming year. It's all ready for you, and you're ready too —take the first step towards reaching your goals today.