We love the '90s, and we know we're not alone. So, we've been pretty excited to see some of our favourite things from the '90s making a comeback, from classic movie remakes and TV reunions to classic fashion trends.
But what were the best things about the '90s? We surveyed the nation to find out more.
The 50 Best Things About the '90s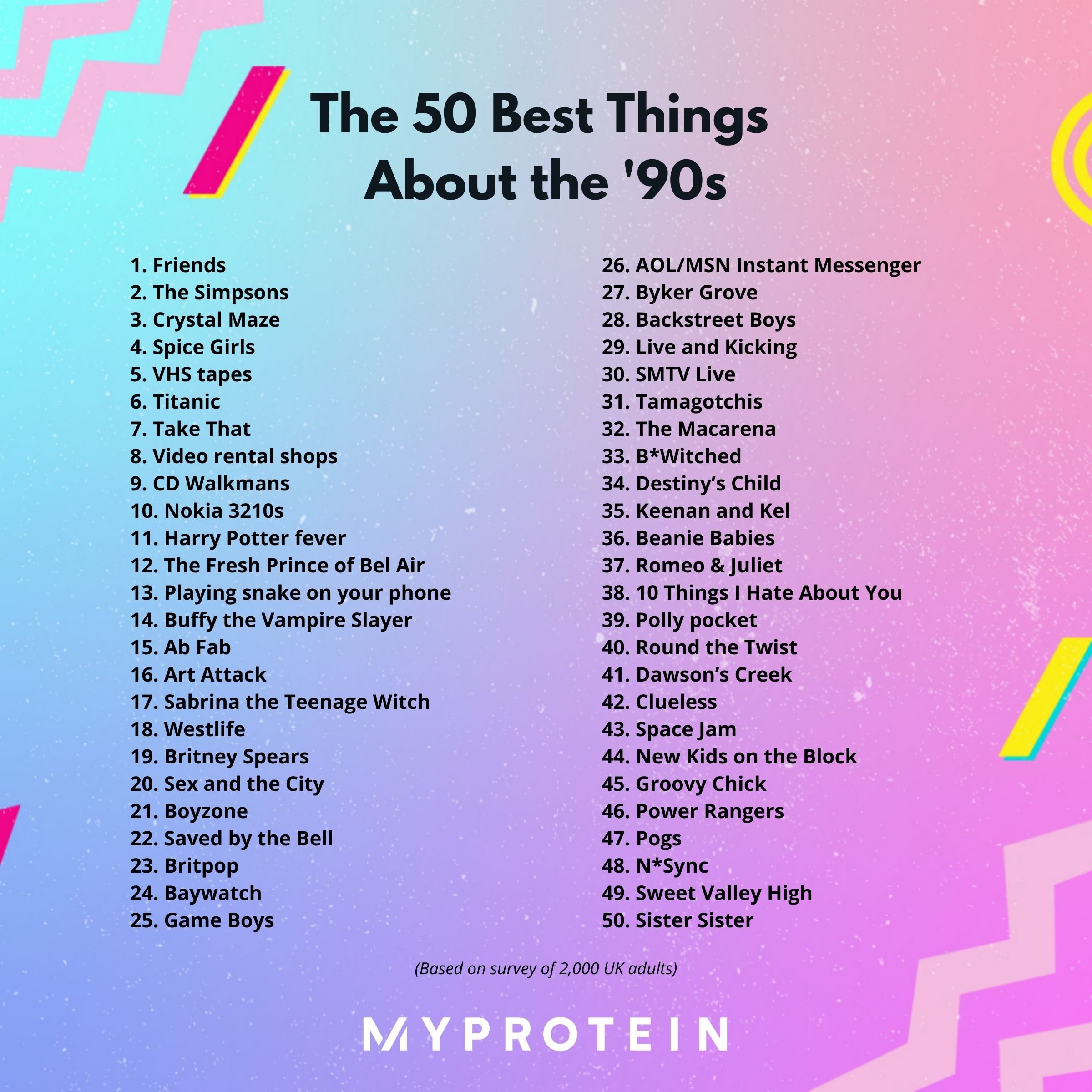 It seems that '90s TV continues to be popular over 20 years later! Friends came out as a clear winner, with a quarter of the people we spoke to saying this was the best thing about the '90s, closely followed by The Simpsons and Crystal Maze. Other popular shows included The Fresh Prince of Bel Air, Buffy the Vampire Slayer and Ab Fab.
Music is the best part of '90s culture
According to our survey, music is the thing we remember most fondly about the '90s, with almost 30% of respondents saying this was their favourite aspect of '90s culture. As for who we were listening to, the Spice Girls, Take That, Oasis and Westlife were among the most popular artists.
Our survey also confirmed the impact these artists have had, with 30% saying '90s pop has had a lasting impact on the future of music and 25% saying the same about Britpop.
TV was second most popular aspect of '90s culture, followed by movies and technology. Bringing up the rear were fashion and politics, with fewer than 1 in 10 people saying these were the best thing about the '90s.
How is the next generation learning about '90s culture?
Over half of the people we spoke to said they feel a lot of nostalgia for the '90s, with a third saying it was the best decade. But what about people who aren't old enough to have lived through them?
For the younger generation, social media is the biggest source of inspiration, with over 40% saying this is where they've learned about '90s culture. Films, TV and music were the next most common places to learn, followed by parents and grandparents.
Take Home Message
We love the '90s. And as we can see, this continued obsession is not set to die down anytime soon.