Turn Holi into a Healthy Celebration- Dishes with a nutritious twist
---
Festival of colours is a reason and season for every Indian to let loose their inner dancer. Some of us are clad in linen shorts and aviators and living up to the iconic "Balam Pichkari and "Jai Jai Shiv Shankar". However, whatever tune we groove into, there will be one thing common around the country this day, sweets and fried food.
Indulging into something unhealthy like bhaang pokora on a festival is just so common. Instead opt for Myproteins idli with mint chutney. The sweets and the fried food sabotages our fitness goals and leave us full of guilt. Let's enjoy our festival guilt free.
Ragi Malpua
Amaze you family with this incredible, delicious and flavoursome malpua that are crisp on the outside and soft at the center. The market malpuas are fried drenched in sugar syrup and just not the right option for weight watchers. Try this healthier version of Malpua
Ingredients:
1/4th cup Myprotein rolled oats flour
1/4th cup ragi flour
Pinch of salt
1/4th cup jaggery
1 tsp fennel seeds
½ tsp cardamom powder
2 tblsp olive oil to grease the pan
2 tblsp honey
1 tblsp crushed pistachios
1 tbslp grated coconut
Milk to adjust the consistency
Method: Take a bowl and add oats flour, ragi flour, jaggery, fennel seeds, cardamom powder, grated coconut. Add milk to adjust the consistency and keep aside for 10 minutes. Next take a skillet over a medium flame, grease with olive oil and put the batter. Cook on both sides. Now, transfer the malpua on the plate and top with honey and crushed pistachios.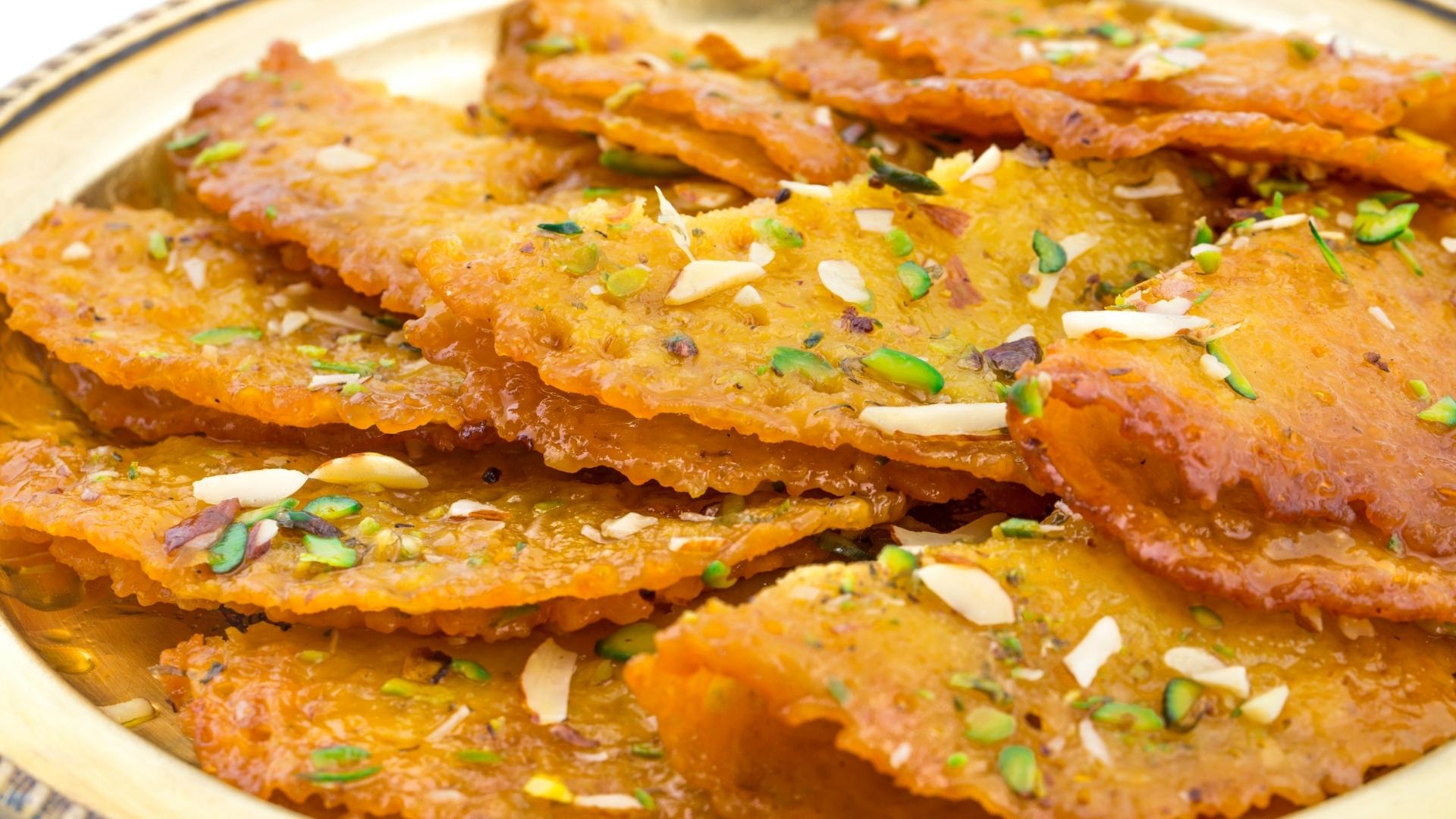 Protein Thandai
Rajasthani thandai drink is a perfect drink to serve on special days and festivals like holi. The same flavour, the same punch and the same intensity of pleasure, just without the guilt of having anything unhealthy.
Ingredients:
5 almonds
5 cashews
1 tsp fennel seeds
1 tsp melon seeds
2 tsp poppy seeds
4-5 black peppercorns
1 pinch of saffron
1 tblsp gulkand
1 scoop Myprotein whey
2-3 cubes ice
300 ml water
Rose petals
Method: In a bowl, combine almonds, cashews, fennel seeds, melon seeds, poppy seeds, black peppercorns, saffron. Pour a cup of warm water and let it soak for an hour. After an hour put everything in a blender, add gulkand and blend. Now add a scoop of whey protein and water and blend again. To a glass add 2-3 cubes of ice and pour protein thandai. Garnish it with rose petals and serve.
Fun is good but not at the cost of your hard worked gym regime. Enjoy your morning workouts with circuit training even on the festive day and evenings with our Air fry oats Gujjiya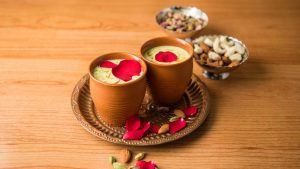 Air fry Oats Gujjiya
Ingredients:
1/2 cup Myprotein Oats flour
½ cup whole wheat flour
2 tblsp ghee
Pinch of salt
½ cup Khoya
1 tblsp crushed almonds
1 tblsp crushed pistachios
1 tblsp desiccated coconut
1 tblsp poppy seeds
1 tsp cardamom powder
½ cup chopped dates
Milk to knead to dough
Method:
For dough, mix ghee, salt and both the flours. Knead the dough with milk. Keep aside and cover with damp cloth for 30 minutes. For filling, take a bowl, add khoya, crushed almonds, crushed pistachios, desiccated coconut, cardamom powder, poppy seeds, dates. Mix well. Now roll the dough balls and place in the oiled gujiya maker. Add filling to it. Press it and remove. Brush them with olive oil on both sides. Air fry them at 180 degrees Celsius for 15-20 minutes. 5-10 minutes can vary depending upon the air fry you are using. You can bake them as well.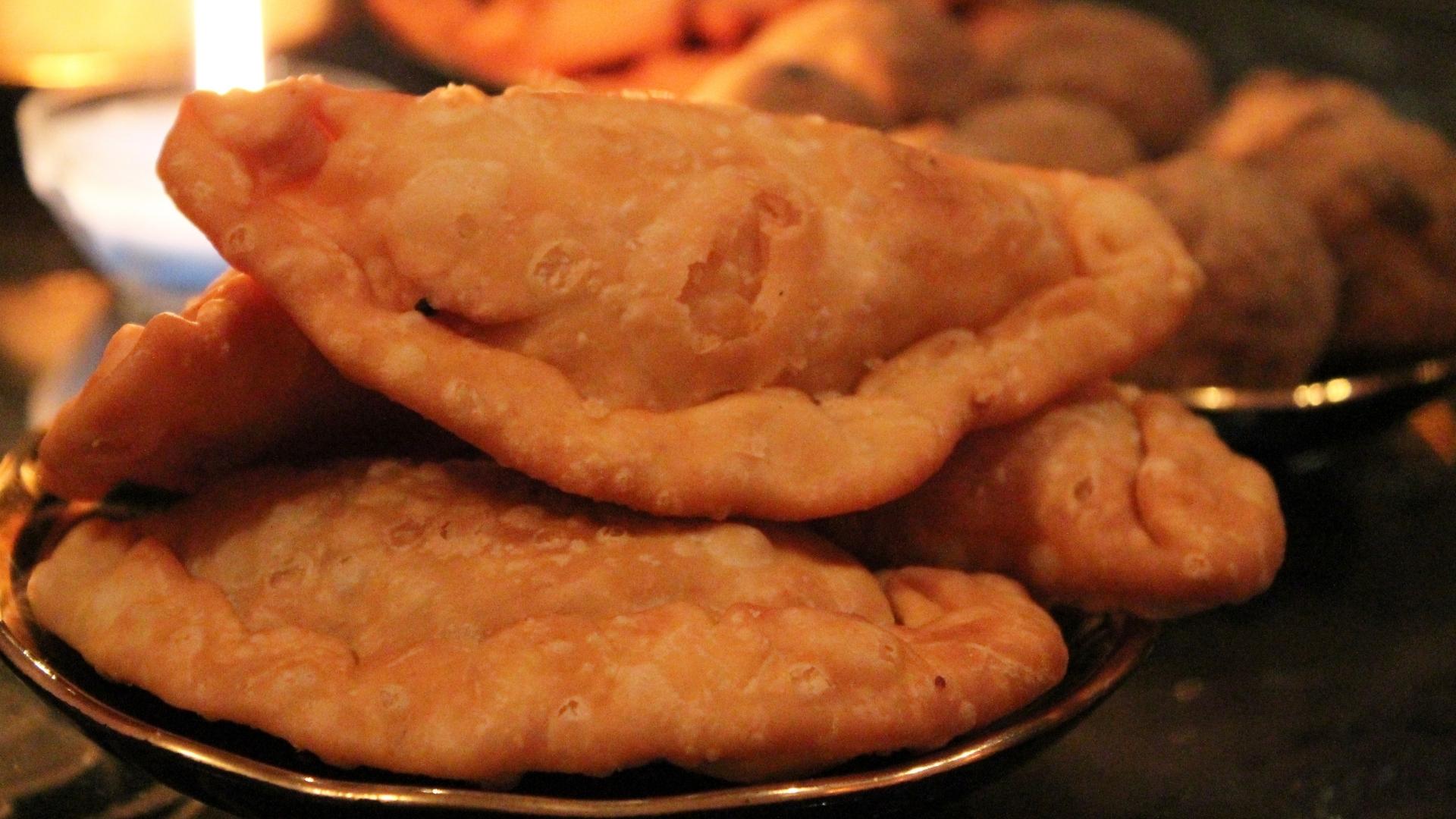 Your health is of utmost importance so other things to make note of on a festival day is to stay hydrated throughout the day and try keeping a count of calories.
Let's celebrate Holi and dissolve the unseen barriers, opt for herbal colours and not make an excuse to binge on unhealthy calories and accumulate health risks.
Content Creator: Nidhi Gupta
Follow her : @fitnesswithnidhi