We're all able to get the nutrients we need from diet alone, and this is where the bulk of your vitamins should be coming from. However, for those who want a boost of certain nutrients to reap their benefits, vitamins and supplements are the way to go. So this article looks at the best supplements for men to aid physiological health, physical health and building muscle mass.
We're going to cover supplements men should consider incorporating in their life to support optimal health and body composition. While specifically highlighting certain supplements which are conducive to supporting lean muscle mass and testosterone levels.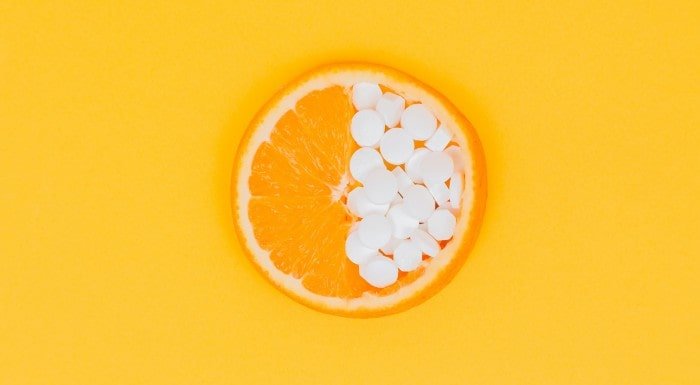 1. Vitamin D
Vitamin D plays a massively diverse range of roles across the body (involved in both the mental and physical domains of health) and is considered to act more like a hormone than a vitamin.
For men it appears to play a particularly important role in the regulation of testosterone3 with lower levels of vitamin D significantly associated with testosterone deficiency.4
It can also play an important role in our lean muscle. Not only does it ensure our muscle functions as it should, it also has the potential to improve performance in some forms of exercise. A vitamin D deficiency may lead to some atrophy (muscle breakdown) too.5
Known as the sunshine vitamin, our bodies are able to produce vitamin D when our skin is exposed to UV rays from the sun. And of course, it's found in supplements too as well as a lot of leafy greens like spinach and kale.
Experts recommend supplementing with vitamin D all year round, however with winter pretty much here and most of us getting less sunlight, supplementing with this vitamin is even more important.
2. Protein powder
Safe to say protein was always going to make the list as one of the best supplements for men.
Protein powder is a suggestion born from convenience rather than necessity, because you can't always get a portion of chicken in straight after a workout. Protein powders are also extremely calorie efficient comparative to other protein sources (allowing you say more carbohydrate or dietary fats) as well as being one of, if not the, best quality protein sources available.
Athletes require higher levels of protein7 to ensure they're recovering properly and performing at their best. Aging populations also ought to up their protein intake, which is arguable an even greater concern for men given the decline in testosterone which is important for preserving muscle.
Researchers' recommendations range between 1.6 to 2.2g of protein per kg of bodyweight for athletes, and upwards of 1.2g of protein per kg of bodyweight8 for aging groups. Do your best to get it from dietary sources and integrate a protein powder to ensure you're achieving these targets.
3. Omega 3 fatty acid supplement
Omega 3s are predominantly found in oily fish and other marine sources. They play an incredibly important role1 in the health of our brain, cognition, heart, overall physical and mental health. Omega 3s are also considered9 essential as we're not capable of producing them ourselves so we have to rely on our diet to achieve our needed intake.
More specifically for men, intake of omega 3s appears to support testosterone levels, even possibly increasing them10, especially when they replace unhealthy fats (trans and saturated fats) in the diet11.
While you can get your required intake from oily fish and certain plant sources, using an omega 3 supplement can be a much more efficient alternative and, much like protein powder, more cost, time and calorie effective.
4. A well-rounded multivitamin
Having a multivitamin in your supplement cupboard can be incredibly useful. It's not an excuse to skip out on your fruit and veggies, they're still important, but it can be a "safety net" for anything that you may be lacking in on a given day.
Not necessarily essential but that doesn't mean it wouldn't be more optimal for your overall health and performance.
Check out our Alpha Men Multi which is uniquely designed to promote men's health.
5. ZMA
Zinc and magnesium are two critically important supplements for men to consider. Both have been shown to play an important role in supporting testosterone levels12,13 with supplementation shown to even elevate testosterone levels.
Not to say that a ZMA will have you looking like Arnie after a few months but it can certainly help you feel much better as well as stronger and fitter too.
6. Ashwagandha
Ashwagandha is a member of the ayurvedic herbs family (a branch of traditional Indian herbal medicines and remedies) and has been mainly touted for its anxiety and stress relieving properties14. Researchers have found that it may however also lead to improved athletic performance, lean muscle gain and even elevated testosterone.
7. Creatine
Creatine isn't just for men of course but it can be of particular benefit to men. Essentially, creatine is as an energy "recycler" (it recycles our body's primary unit of energy; ATP).
Creatine supplementation has been shown to improve performance, increase lean body mass, improve recovery and even have a protective/improving effect on mental health15.
While there's some suggestion that it can, creatine does not likely impact or elevate testosterone levels (making it suitable for both men and women).
8. A digestive aid
One of the often-overlooked supplements in a supplement connoisseur's repertoire is the less exotic sounding, but very important, digestive aid.
Considering your protein intake may be increasing it may be useful to introduce a digestive aid into your supplement protocol to ensure you're not being hampered by any beleaguered bloating or gassiness. This makes it a great supplement for anyone, so definitely one of the best supplements for men.
9. A total testosterone-support package
Similar to protein, this is a supplement of convenience. We've highlighted quite a few individual dietary elements (and one exotic sounding herb) in this article and it may not be all together practical to be supplementing with each of these on a daily basis.
Why not instead incorporate an all-in-one testosterone support supplement which covers all of these bases (excluding an omega 3) and then some. This one definitely makes the cut as one of the best supplements for men.
Take home message
Supporting our health, be it physical or mental, is vital.
In recent years it's been a race to look a certain way often forgoing health along that journey. We need to be conscious of our health beyond the size of our biceps and remember that as we age our health becomes even more important.
These are nine of the best supplements for men. Start to incorporate a few of these suggestions into your daily regimen and let your mates know about them too. Everyone benefits from a healthier, happier version of you.
Our articles should be used for informational and educational purposes only and are not intended to be taken as medical advice. If you're concerned, consult a health professional before taking dietary supplements or introducing any major changes to your diet.
1. Thomas G. Travison, Andre B. Araujo, Varant Kupelian, Amy B. O'Donnell, John B. McKinlay, The Relative Contributions of Aging, Health, and Lifestyle Factors to Serum Testosterone Decline in Men., 2007. The Journal of Clinical Endocrinology & Metabolism, 92 (2), pp. 549–555.
2. Yeap, B. Are declining testosterone levels a major risk factor for ill-health in aging men? 2009. International Journal of Impotence, 21, pp. 24–36
3. de Angelis, C., Galdiero, M., Pivonello, C. et al. The role of vitamin D in male fertility: A focus on the testis. 2017. Rev Endocr Metab Disord 18, pp. 285–305.
4. D'Andrea, S., Martorella, A., Coccia, F. et al. Relationship of Vitamin D status with testosterone levels: a systematic review and meta-analysis. 2021. Endocrine 72, pp. 49–61
5. Książek, A., Zagrodna, A. & Słowińska-Lisowska, M. (2019). Vitamin D, Skeletal Muscle Function and Athletic Performance in Athletes—A Narrative Review. Nutrients. [Online]. 11 (8). pp. 1800.
6. Amrein, K., Scherkl, M., Hoffmann, M., Neuwersch-Sommeregger, S., Köstenberger, M., Tmava Berisha, A., Martucci, G., Pilz, S. and Malle, O., 2020. Vitamin D deficiency 2.0: an update on the current status worldwide. European Journal of Clinical Nutrition, 74(11), pp.1498-1513.
7. Campbell, B., Kreider, R., Ziegenfuss, T., La Bounty, P., Roberts, M., Burke, D., Landis, J., Lopez, H. and Antonio, J., 2017. International Society of Sports Nutrition position stand: protein and exercise. Journal of the International Society of Sports Nutrition, 4(1).
8. Coelho-Júnior, H., Milano-Teixeira, L., Rodrigues, B., Bacurau, R., Marzetti, E. and Uchida, M., 2018. Relative Protein Intake and Physical Function in Older Adults: A Systematic Review and Meta-Analysis of Observational Studies. Nutrients, [online] 10(9), pp.1330.
9. Yashodhara BM, Umakanth S, Pappachan JM, et al. 2009. Omega-3 fatty acids: a comprehensive review of their role in health and diseasePostgraduate Medical Journal., 85, pp. 84-90.
10. Abbott K, Burrows TL, Acharya S, Thota RN, Garg ML. 2020. Dietary supplementation with docosahexaenoic acid rich fish oil increases circulating levels of testosterone in overweight and obese men. Prostaglandins Leukot Essent Fatty Acids. 163:102204.
11. MInguez-Alarcón, L., Chavarro, J. E., Mendiola, J., Roca, M., Tanrikut, C., Vioque, J., Jørgensen, N., & Torres-Cantero, A. M. (2017). Fatty acid intake in relation to reproductive hormones and testicular volume among young healthy men. Asian journal of andrology, 19(2), 184–190.
12. Prasad, A. S., Mantzoros, C. S., Beck, F. W., Hess, J. W., & Brewer, G. J. 1996. Zinc status and serum testosterone levels of healthy adults. Nutrition, 12(5), 344–348.
13. Maggio, M., De Vita, F., Lauretani, F., Nouvenne, A., Meschi, T., Ticinesi, A., Dominguez, L. J., Barbagallo, M., Dall'aglio, E., & Ceda, G. P. 2014. The Interplay between Magnesium and Testosterone in Modulating Physical Function in Men. International journal of endocrinology, 525249.
14. Adrian L. Lopresti & Stephen J. Smith. 2021. Ashwagandha (Withania somnifera) for the treatment and enhancement of mental and physical conditions: A systematic review of human trial. Journal of Herbal Medicine, 28, 100434
15. Kreider, R.B., Kalman, D.S., Antonio, J. et al. 2017. International Society of Sports Nutrition position stand: safety and efficacy of creatine supplementation in exercise, sport, and medicine. J Int Soc Sports Nutr 14, 18