Very few things beat the satisfaction that comes when eating food that you've created — and what better way to start the day than with a cup of freshly pressed juice à la yourself?
Whether you haven't tried to make your own juice before due to the lack of a juicer, or you're a juicing pro but hate the process of cleaning down your juicer, these ideas will be right up your street.
Here's how to make a glass of fresh fruit juice without a fancy juicer in sight!
The process
Start by preparing the ingredients. This may differ depending on the foods used but will generally involve deseeding, removing the skin and roughly chopping into smaller pieces.
Now it's time to blend. Place all the ingredients into a high-speed blender and blitz until smooth.
Next up is where you'll see the results. Either transfer the mixture to a fine sieve (the holes need to be fine to prevent the thicker pulp from passing through) and use the back of a spoon to pass the juice through into a bowl, or use a muslin cloth to squeeze out the juice and leave behind the pulp.
… and serve! Pour the juice into a glass and drink the same day.
The juices
It's all fair and well if we tell you that making juice is as easy as 1-2-3, but we know that you'll want to put the process into action.
1. The Classic
This is a take on the classic orange juice that 62.4% of British juice-drinkers enjoy1.
You will need:
2 oranges, peeled and cut into triangles
1 lime, skin and pips removed
100ml water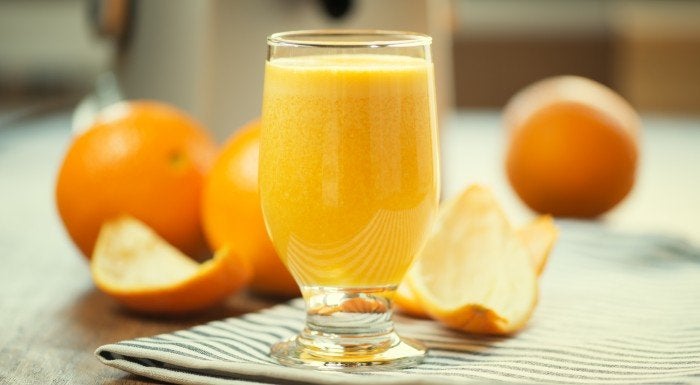 It's no secret that oranges are packed with vitamin C, but did you also know that this citrus fruit is a good source of vitamin A, several B vitamins, and calcium? Combined with limes to take the edge off the sweetness of the orange, this juice will help with normal energy metabolism to get you started on your workout.
2. The Wake-Up Call
Imagine a less intense ginger shot and this is what you get.
You will need:
1 apple, peeled and cored
Thumb-sized piece of ginger, peeled
½ lemon, peeled and deseeded
100ml water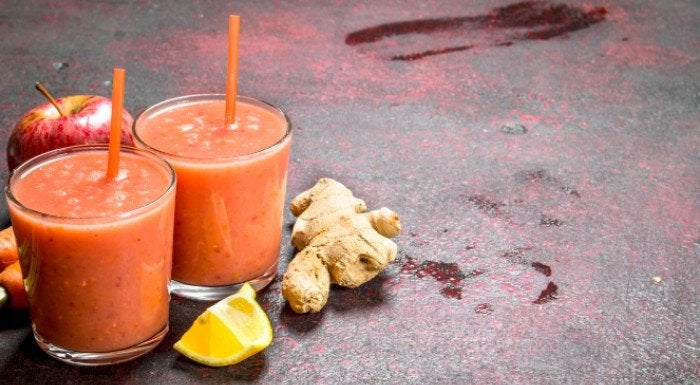 Historically an extremely rare and sought-after spice, ginger is now a common spice in many households and acts as a natural anti-inflammatory. While the high vitamin C content of the citrusy lemon supports the normal health of our immune system, the flavour balances out the concentration of the ginger, cutting through the sweet apple.
3. The Indulgent One
The creaminess of the pear and the distinct flavour of the cinnamon help to take away the sharpness of the cranberries.
You will need:
1 pear, peeled and cored
1 tsp cinnamon
1tsp honey
80g cranberries,
½ apple, peeled and cored
100ml water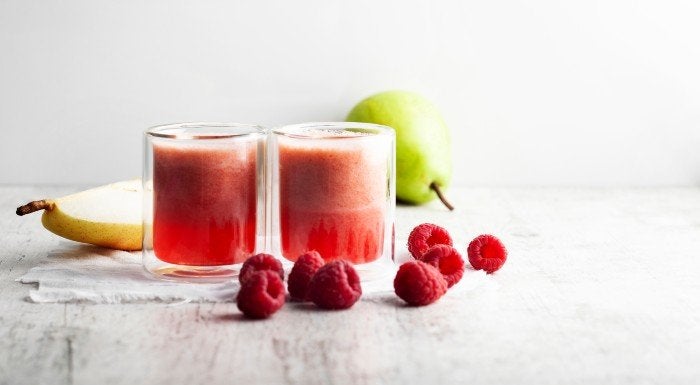 Cranberries are often associated with a reduction in discomfort as a result of UTIs, however, you may not realise that these red berries are also high in vitamin C to protect your cells from antioxidant damage. Adding natural honey makes the sharpness of these berries more palatable if you prefer a sweeter taste, and the cinnamon adds an autumnal touch.
The pulp
If you're wondering what to do with the excess pulp, why not try warming it up and serving over a bowl of hot porridge? Or mix the pulp into your next batch of protein pancakes to give them a fruity boost!
Take Home Message
These quick and simple recipes are easy to replicate using other ingredients. If ginger isn't your thing then why not swap it out for another exotic spice that tickles your taste buds?
Whatever ingredients you choose to press into a juice, the process will be well rewarded with a refreshing, nutrient dense drink to help you power through the day.
Enjoy these juice recipes?
READ THIS NEXT: