In case you are wondering, the answer to the question is a resounding Yes. Sad, but true.
First, let's go over some numbers that are very hard to ignore:
India now ranks in the top 5 countries in terms of obese adults – 30 million obese adults. That is about the same as the population of Mumbai, Delhi and Bengaluru combined.
India has the second highest number of obese children – 14.4 million obese children. That's about the same as the population of Chennai, Pune and Hyderabad combined.
The equivalent of the population of Mumbai + Delhi + Bengaluru + Pune + Chennai + Hyderabad are obese.
India is now widely recognised as the 'Diabetes capital of the world' – Diabetes is reaching potentially epidemic proportions in India.  It is predicted that by 2030 Diabetes may afflict up to 80 million individuals in India. That's about double the numbers expected in China (42m) and the United States (30m).
What went wrong?
Is the Indian diet to blame?
Or is something else leading to this worrying state of affairs?
Is the traditional Indian diet to blame?
No. Let's discuss.
Clearly there is no one diet that we can call a typical Indian diet.  Due to its sheer size and diversity, India offers a large variety of cuisines and foods. Most of these cuisines have a number of common themes:
Use of grains like rice, wheat, millets etc (dishes include idlis, rotis, dosas, parathas).
Incorporation of lentils and legumes (dishes include dals, channa, rajma, sambar).
Creative use of seasonal vegetables across a range of dry or gravy dishes.
Use of oils and fats for cooking – butter, ghee, coconut oil etc.
Dairy products like milk, paneer and yoghurt play a significant part in many cultures.
Seafood and meat are used in many cuisines.
Significant use of herbs and spices – turmeric, ginger, cardamom, clove, cumin, mustard etc.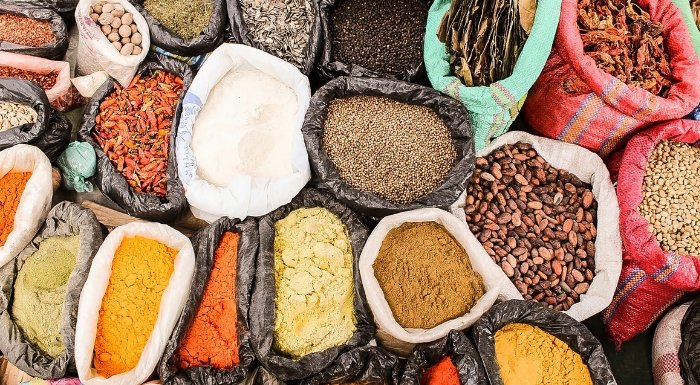 All of the above are high quality foods that provide high-quality nutrients to our body – carbohydrates, protein, fats, vitamins and minerals. In addition, we benefit from the unique health benefits that come from the use of various herbs and spices.  All of this makes for what is arguably one of the healthiest cuisines in the world. It's no wonder that an India dish appears to be the long-standing national favourite even in the UK – the chicken tikka masala.
So, what went wrong?
The world has changed in the last few decades and nowhere is this more evident than in India.  As someone who grew up in Mumbai (Bombay at that time), I barely recognise the city I grew up in. This seems to be the case everywhere we go across the country.  All this change has made its way into our lives and the food we eat too.
There have been big changes in our eating patterns in the past decade and this has impacted every single meal we eat in a day.
Let's take a look:
Breakfast: Our busy lives mean that the first meal must be quick, convenient, easy to pack etc. This means no more cooked food and the choices now seem to be quick fixes like corn flakes or other sugary cereals, oats, bread (jam or a sugary spread is never far away) etc.
Lunch: Office canteens are convenient for many, or you can order in. Let's be honest – neither option is known for fresh high-quality food.
Snacks: Usually comes in a packet or box (biscuits etc) that have a long shelf life. Or there's the oily options (samosa's, puffs etc).
Dinner: This is the golden age for food delivery apps and anything you desire is a few clicks (and a 30min wait) away.  Restaurant food is almost always extremely oily. You may not be able to tell, but we know this from talking to professional chefs.
All day: Sugary beverages are everywhere. Also, the sugar in all the coffee/tea that you drink during the day adds up.
Looking at all the food we eat in a day, our diet is no longer mainly the typical Indian diet.
Do any of the above meals sound familiar? Or have I just described your typical day? Not to worry, you are not alone. Whether it is one or more of the above meals that have changed, this means our typical days eating:
Is significantly higher in carbohydrates and sugar.
Has much lower fresh fruit and vegetables.
Contains a lot of oil and fat (not the good kind).
Is significantly lower in protein.
Includes various processed foods which come with artificial ingredients and processed oils.
Here's a fact you won't forget:
The average Indian consumes more than 10 teaspoons of sugar – in a single day.
Overall, when we look at the food we eat in a day, we don't seem to be eating the typical Indian diet anymore. There lies the problem! The average Indian today eats too much carbohydrates, sugar and junk, but not enough protein or vegetables.
The result? Excess weight & obesity and deficiencies in important nutrients that the body needs like protein, calcium, vitamin B12 etc, all of which contribute to health issues like diabetes, hypertension etc.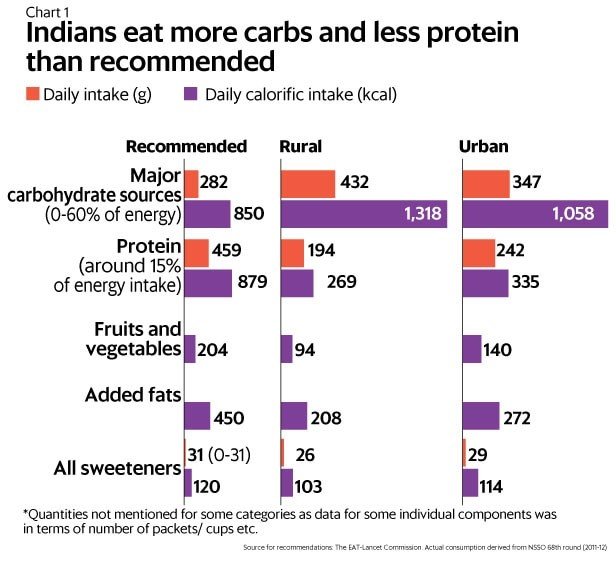 How do we fix this?
Should we only eat home-cooked meals?
Or only eat traditional Indian foods?
While that seems simple in theory, we know that life is complicated and messy.
In practise, there is a way to strike a balance that will promote health without you having to sacrifice convenience.
Based on our experience of working with over 1,000 clients we would recommend the following 5 rules:
At each meal, fill half your plate with vegetables (choose local and seasonal options, organic if possible).
Eat a fist of protein with every meal (measure the protein against your fist).
Get your sugar from fruit (choose any fruit in season).
Don't eat anything that comes in a packet/box – basically no processed/packaged foods.
Supplement wisely – protein deficiency is a big issue and whey protein makes for a safe and effective source of additional protein, either after a workout or if you're on the go.
Whether it's a home-cooked Indian meal or if you're ordering in, if you follow these 5 rules you will be on the right track to reclaim your health.
To know more about the author here.