Stan Browney loves a challenge. Usually, they require little more than some gym equipment and a bit of determination. But this one's not so easy to attempt at home. For his latest, Browney wanted to break the world record for most pull-ups in 60 seconds… on a moving helicopter.
The challenge
It's a record Browney and his friend Arjen have had in their sights for some time. 23 pull-ups in a minute, set by Armenian Roman Sahradyan in 2021, was the bar they'd need to clear. It'd be difficult, but not impossible.
They'd never had any luck finding a helicopter, which had always been the major stumbling block. But after Browney somehow managed to arrange one, the record attempt was on.
The second thing they needed was suitable training equipment. Browney and co have plenty of pull-up bars at home, but they needed to replicate the circumstances of the challenge as best they could.
Helicopter landing skids are thicker and trickier to grip than your typical pull-up bar. They also move in the air. So some DIY was needed. After Arjen fashioned a swaying pull-up bar out of PVC pipe and rope, they had exactly what was required for practice.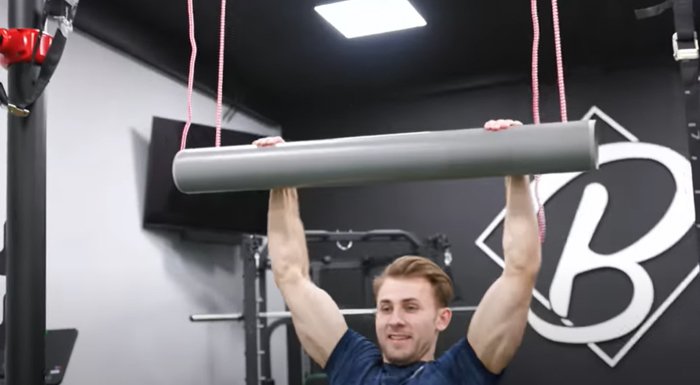 The third thing needed was a world record adjudicator. Browney filled in and sent off the application, and on the same day it was approved. Six days before challenge was set to go ahead, they had permission to take off.
But as the guys prepared to beat the record, they flew into some turbulence, which threatened to bring their dreams crashing to the ground. Due to safety concerns, the challenge couldn't be completed in the Netherlands, so they were forced to postpone it until they could make alternative arrangements.
If you've watched any of Browney's videos before, you'll know that it takes a lot to stop him once he gets going. And this challenge was no different. After trying nearly everything, they were finally able to get the record attempt back off the ground. They had a new date, a new deadline, and a new country. Browney and Arjen were off to neighbouring Belgium.
The day of the challenge
40 days later Browney and Arjen arrived at the airfield in Belgium. There they met the official adjudicator, who set out the record attempt's strict rules:
Rules:
Participant's body must remain straight with only a slight bend in the knee allowed
Participant's chin must pass the helicopter landing bar for the rep to be counted
After months of training, Arjen was first to step up to the plate, completing 24 reps on his go. The adjudicator checked his body remained straight throughout and his chin cleared the bar for every rep, and presented Arjen with his world record certificate.
Browney was next up, and he had a new record to beat. After the adjudicator's checks, it was confirmed he had completed 25 reps and was the new holder of the record. Two world records broken in a single day, first by Arjen and then by Browney. I think you can say the challenge was a success.
Take home message
At this point there's nothing that Browney could do that would surprise me. Each new challenge attempt seems unlikelier and more ambitious than the last. Fair play to Browney and Arjen, though. They made it look easy. I wonder what they have planned next.