In need of something quick & delicious for dinner tonight?
---
Well, you've come to the right place. These incredible 7-ingredient stir-fries are ideal for throwing together when you're after an easy meal that doesn't require loads of time and effort to prepare and cook.
And just because they're simple to make doesn't mean they're not absolutely packed with flavour. From rich black bean beef, sizzling salt & pepper chicken, and sweet soy-glazed tofu — we've got something super-tasty to suit everyone.
Plus, each one of these stir-fries — including the vegan one — provides a great boost of protein, perfect for keeping you feeling full & satisfied.
Here's how to make them.
1. Salt & Pepper Chicken Stir-Fry
Serves 3
Ingredients
2 chicken breasts (sliced)
3 garlic cloves (chopped)
3 red chillies (chopped)
1 onion (sliced)
1 green pepper (sliced)
2 tbsp. dark soy sauce
250g basmati rice (cooked)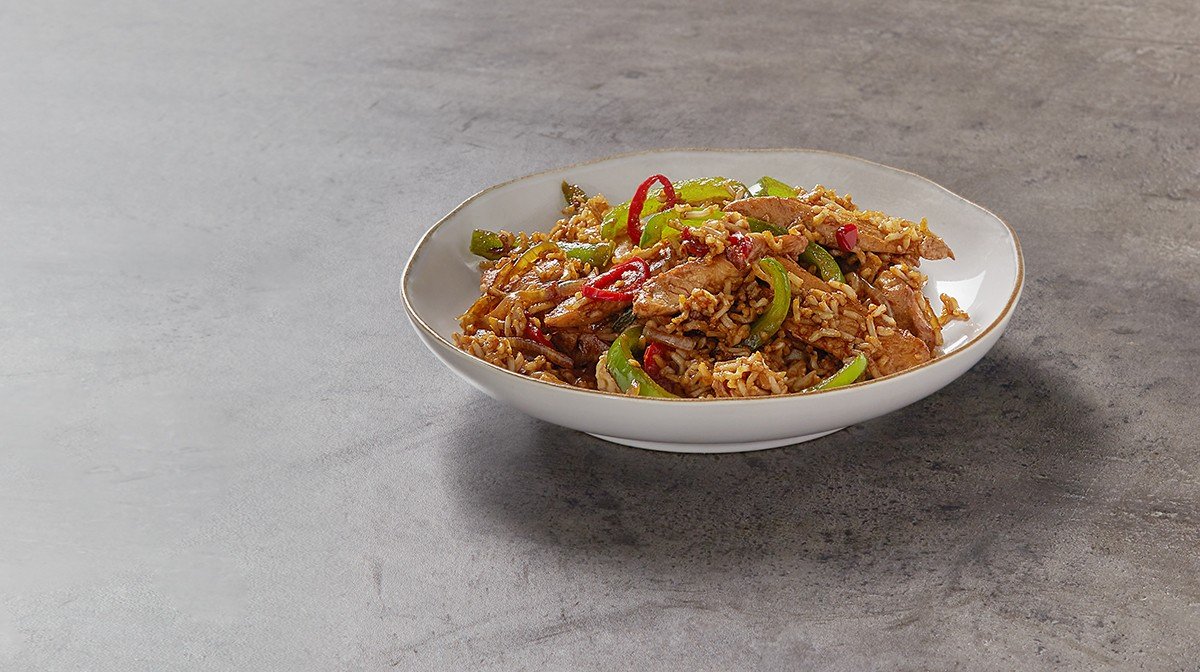 Method
First, heat some oil in a large wok, then add the chicken strips. Fry for a couple of minutes on each side until the chicken is cooked through and the outsides are beginning to turn golden brown. Then set aside.
Next, add the garlic, chillies, onion, and pepper to the wok and fry for a few minutes until softened.
Add the cooked chicken strips back to the wok and then fry all the ingredients together for a few minutes, tossing them together with tongs or a spoon.
Now add the cooked rice and soy sauce and mix thoroughly to combine all the ingredients. Fry for a couple more minutes, then serve!
| | | | |
| --- | --- | --- | --- |
| Calories | Protein | Carbs | Fat |
| 426 | 38g | 57g | 2.6g |
2. Soy-Glazed Tofu Stir-Fry
Serves 3
Ingredients
1 piece fresh ginger (chopped)
3 spring onions (chopped)
2 red chillies (chopped)
1 pack firm tofu (cubed)
1 tbsp. peanut butter
2 tbsp. sweet soy sauce
300g rice noodles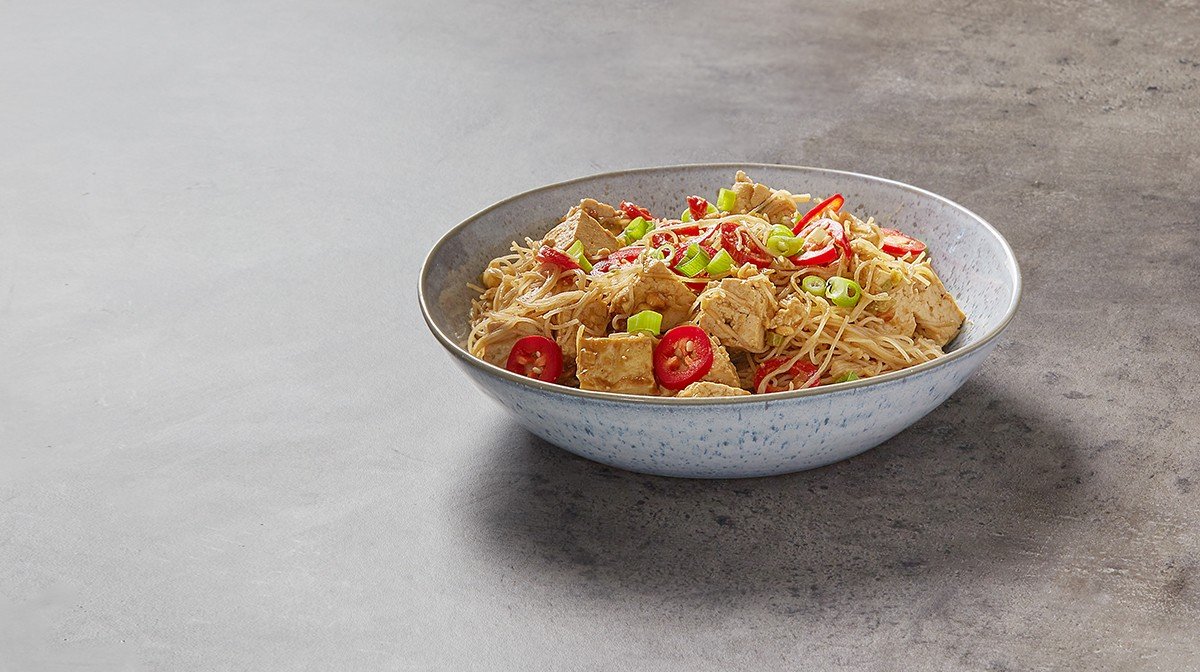 Method
Heat your oil in a large pan or wok, then add the ginger, spring onions, and chillies. Fry on a high heat for a couple of minutes, stirring through.
Next, add your cubes of tofu and fry for 3-4 minutes. Then add the peanut butter and soy sauce, stirring them through until everything in the wok is evenly coated.
Then add your rice noodles, mixing well to combine them with everything else. Fry for a final 3-4 minutes and then serve up. Garnish with chopped spring onions and sesame seeds.
| | | | |
| --- | --- | --- | --- |
| Calories | Protein | Carbs | Fat |
| 418 | 22g | 52g | 14g |