Chocolate frosted cookies are the perfect solution when you're in need of a chocolate fix. Packed with protein, these cookies are guaranteed to be a hit!
Created by Charlotte Helena
Ingredients
For The Cookies:
45g Oats
3 Tbsp. Cashew Butter
3 Tbsp. Cacao Powder
Handful Almonds- Roughly Chopped
Handful Dark/Raw Chocolate (Roughly Chopped)
1.5 Tbsp. Coconut Oil
Almond Milk
For The Frosting:
2 Tbsp. Cashew Butter
1. Heaped Tbsp. Cacao Powder
2 Tbsp. Honey/Agave/Maple Syrup
Method
#1 Preheat your oven to 180°C and line a tray with baking paper.
#2 Add the protein powder, oats, cashew butter, cacao and coconut oil into a food processor and blend until everything is well combined.
#3 Add a splash of almond milk and blend again to create a sticky, dough-like mixture. You can always add in more nut butter or coconut oil if the ingredients aren't holding together.
#4 Stir through the chopped almonds and chocolate and mould the dough into small cookies.
#5 Place the cookies onto the baking tray and cook in the oven for around 11 minutes.
#6 Transfer onto a wire wrack and allow to cool.
#7 To make the frosting, mix the cashew butter, sweetener of choice and cacao powder until smooth and creamy.
#8 Add a dash of almond milk if needed, to create a thinner consistency.
#9 Spread the frosting over the cookies and garnish with some cacao nibs.
MACROS FOR CHOCOLATE COOKIES
Calories: 180        Protein: 10.1 g          Fat: 10 g          Carbs: 14.4 g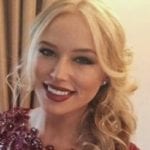 Jennifer Blow has a Bachelor of Science in Nutritional Science and a Master of Science by Research in Nutrition, and now specialises in the use of sports supplements for health and fitness, underpinned by evidence-based research. Jennifer has been quoted or mentioned as a nutritionist in major online publications including Vogue, Elle, and Grazia, for her expertise in nutritional science for exercise and healthy living. Her experience spans from working with the NHS on dietary intervention trials, to specific scientific research into omega-3 fatty acid supplementation and also the effect of fast foods on health, which she has presented at the annual Nutrition Society Conference. Jennifer is involved in many continuing professional development events to ensure her practise remains at the highest level. Find out more about Jennifer's experience here: https://uk.linkedin.com/in/jennifer-blow. In her spare time, Jennifer loves hill walking and cycling, and in her posts you'll see that she loves proving healthy eating doesn't mean a lifetime of hunger.