This is the ultimate movie marathon snack.
There's no escaping that the evenings have already started to get colder and darker, which means there's even more reason to stay wrapped up on the sofa with your favourite TV shows and something delicious to snack on.
And, we don't know about you, but we're just never satisfied after dinner until we've had something sweet to satisfy those cravings.
Niall Kirkland is on hand with this incredibly moreish popcorn bark recipe. Not only is it a completely irresistible combination of rich, dark chocolate, sweet marshmallows, crunchy popcorn, and plenty of peanut butter — it's ridiculously simple to make too.
If you're feeling generous, it's perfect for sharing with your family or flatmates, or it'll keep well in the fridge so you're sorted for a few nights.
Makes 12 pieces
Ingredients
40g popcorn (popping kernels)
1 tsp. 100% Coconut Oil
300g 70% dark chocolate
25g marshmallows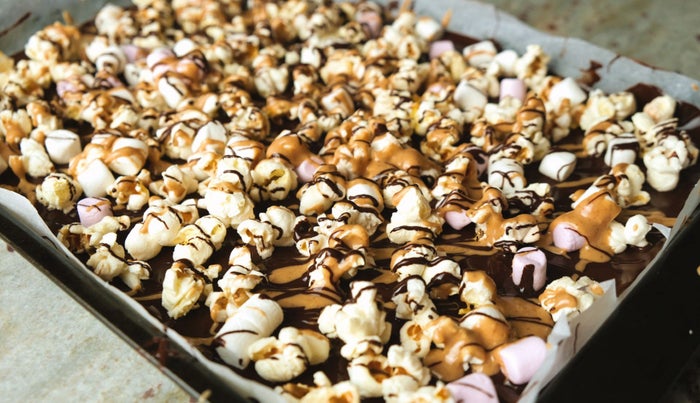 Method
Heat the coconut oil in a pan over a medium heat and add your popcorn to the pan. Cover with a lid and wait until all your popcorn has popped before removing from the pan and setting aside.
Now, boil a saucepan of water, place a heatproof dish on top and add your chocolate to the dish. Stir regularly until it's melted completely. If you don't have a heatproof dish to melt your chocolate over the hob, you can microwave it instead, just be careful to stir it at regular intervals.
Transfer the melted chocolate to a lined baking tray, keeping a little back for decorating later. Use a spatula or the back of a spoon to smooth the chocolate evenly across the tray.
Scatter your popcorn, marshmallows, melted peanut butter and remaining dark chocolate over your chocolate and chill completely set (around 30 minutes).
Break into around 12 roughly sized pieces and enjoy!
Try these no-bake snacks next:
Lauren is an English Literature graduate originally from the South. She's always loved swimming, has discovered the power of weight training over the past few years, and has lots of room for improvement in her weekly hot yoga class. On the weekends she's usually cooking or eating some kind of brunch, and she enjoys trying out new recipes with her housemates – especially since shaking off student habits, like mainly surviving off pasta. Above all, she's a firm believer in keeping a balance between the gym and gin. Find out more about Lauren's experience here: https://www.linkedin.com/in/lauren-dawes-b4416aaa/