You need this garlic chilli chicken in your life. Simple as.
---
Niall Kirkland is back with another incredible homemade recipe to take your dinners plans to the next level. Forget that Zomato order that's been tempting you all week, you have the power to create something every bit as delicious in your own kitchen, we promise.
The trick is to marinate and then cook your chicken thighs before the rest of the stir-fry, to make sure they stay crispy on the outside and juicy on the inside. Oh, and that sticky, sweet & sour sauce will have you coming back for seconds, for sure.
Serves 3
Ingredients
For the marinade:
400g chicken thighs
1 tbsp. soy sauce
2 tbsp. cornflour
2 tbsp. plain flour
½ tsp. chilli powder
1 egg
For the sauce:
1 tbsp. soy sauce
1 tbsp. dark soy sauce
1 tbsp. Sugar-Free Sauce (Sweet Chilli)
2 tbsp. shoaxing wine vinegar
1 tbsp. sesame oil
1 tbsp. honey
5-6 garlic cloves (finely chopped)
1 tbsp. ketchup
1 tsp. cornflour + 25ml water
For the rest:
2 tsp. coconut oil (1 for frying chicken thighs, 1 for stir fry)
1 bell pepper (chopped)
1 onion (chopped)
4 green chillies (thinly sliced)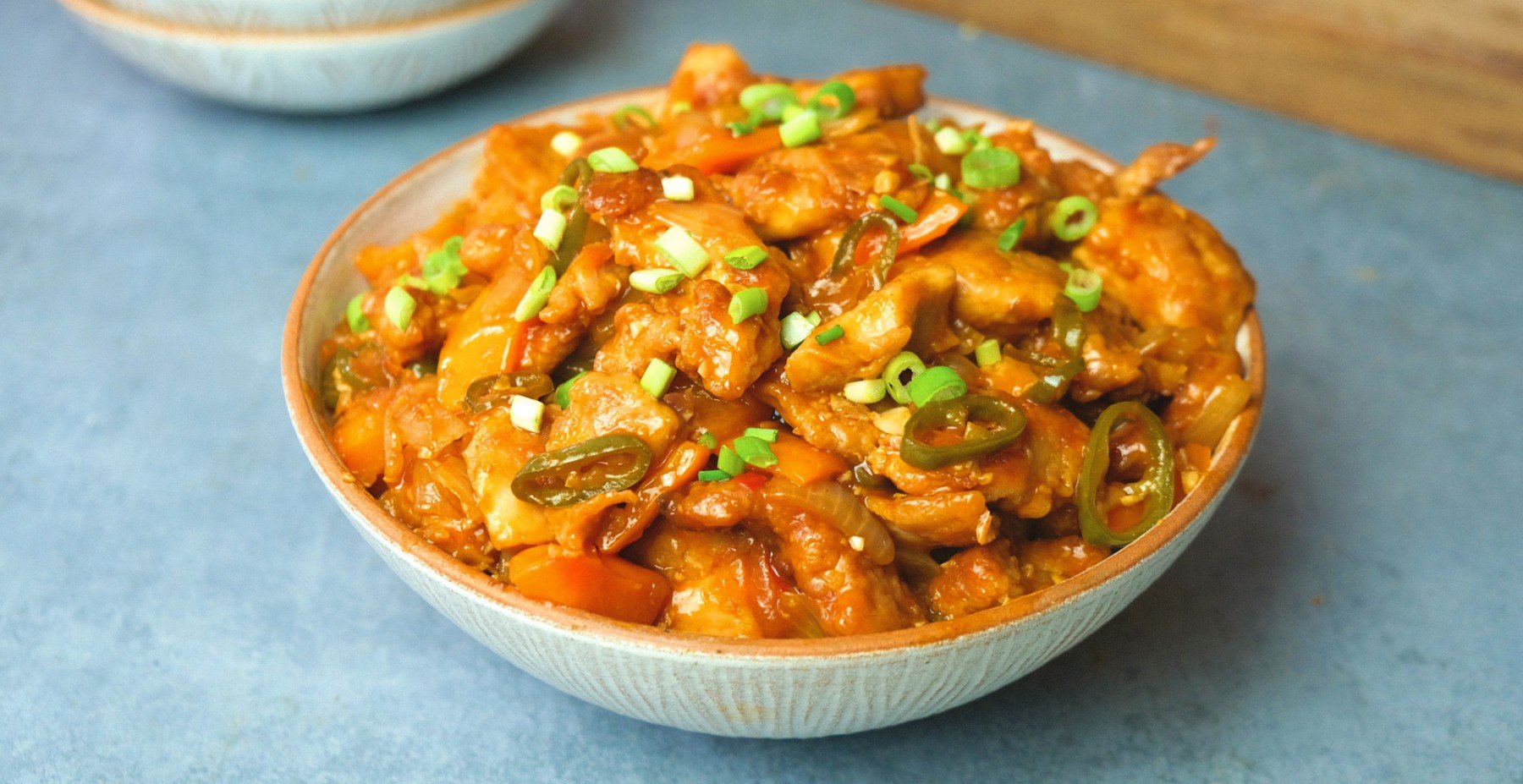 Method
First, make the marinade. Mix together soy sauce, cornflour, plain flour, chilli powder, and an egg in a bowl until fully combined. Add the chicken thighs, make sure to cover completely with the marinade, and leave to sit for 30 minutes.
In a separate bowl, add the sauce ingredients — apart from the cornflour & water mix —and stir until fully combined. Make sure the honey is completely dissolved.
Heat a teaspoon of coconut oil in a non-stick pan and then add chicken thighs. Cook for 4 minutes on each side, flipping once or twice until they're golden brown and crispy. Remove from the pan and remove excess oil using kitchen towels.
Clean the pan and heat another teaspoon of coconut oil until melted. Add the pepper and onion and stir-fry for 5 minutes
Add the sauce to the pan and bring to a low simmer. Cook for 2-3 minutes before adding the cornflour & water mix. Continue to simmer for 3-4 minutes until the sauce thickens, then add your crispy chicken thighs. Toss and coat in the sauce then remove from heat.
Serve with rice and garnish with spring onions. Delicious!