These smoothies are such an easy way to get your day off to a strong start.
Looking for a sweet & simple breakfast to set you up well for all your activities? These high-protein smoothies will instantly have you on track to hitting your daily macros and keep you full all morning.
They're great for a quick fix that you barely have to think about — ideal if you're one of those people who need a few hours to get fully into gear.
Plus, if you are leaving the house to work, they're easy to dash out the door with and enjoy on the go.
Here are three of our favourite flavour combinations — first up, the classic 'nutty banana' which is just an undeniable win and should be tried by everyone.
Make sure to freeze your banana before blending as it makes the smoothie super-thick and creamy. The simple switch from regular peanut butter to our Peanut Butter means 70% less fat, too.
Next we have 'blueberry burst' which packs an extra punch thanks to the addition of Organic Spirulina Powder, a natural superfood extract that's high in protein, fibre, and plenty of essential vitamins.
And finally, 'merry berry' which features our delicious Protein Meal Replacement Blend — a high-protein, high-fibre supplement that's packed with vitamins and minerals.
To name just a few, it provides vitamin A, B6, B12, C, D, E, and K, along with calcium, magnesium, iron, zinc, and copper — all in one serving.
We said these would get you off to a good start…
https://youtu.be/jqnhNxnF53A
Ingredients
For nutty banana:
For blueberry burst:
For merry berry:
150g frozen strawberries
200ml milk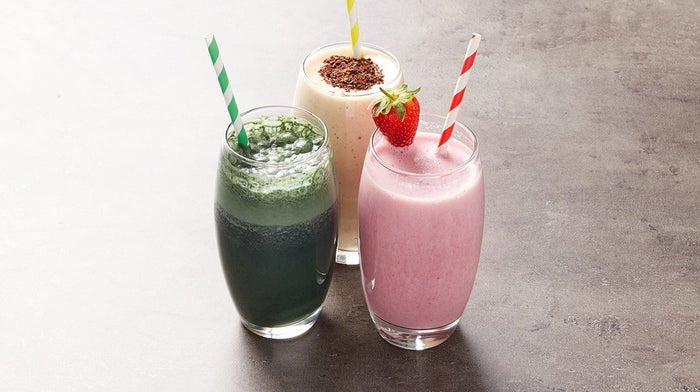 Method
1) For each smoothie flavour, simply add the ingredients to a blender and blend until the mixture is fully combined in a thick, smooth liquid.
2) Pour into a glass and enjoy immediately!
Nutritional info per smoothie:
| | | | | |
| --- | --- | --- | --- | --- |
| | Calories | Protein | Carbs | Fat |
| Nutty Banana | 320 | 31.8g | 41.8g | 3.6g |
| Blueberry Burst | 280 | 39.3g | 34.3g | 3.3g |
| Merry Berry | 278 | 21.5g | 34.1g | 6.2g |
Try these breakfast ideas next:
Lauren is an English Literature graduate originally from the South. She's always loved swimming, has discovered the power of weight training over the past few years, and has lots of room for improvement in her weekly hot yoga class. On the weekends she's usually cooking or eating some kind of brunch, and she enjoys trying out new recipes with her housemates – especially since shaking off student habits, like mainly surviving off pasta. Above all, she's a firm believer in keeping a balance between the gym and gin. Find out more about Lauren's experience here: https://www.linkedin.com/in/lauren-dawes-b4416aaa/