Using just 4 simple ingredients, these homemade peanut butter cups from Niall Kirkland couldn't be easier to make — ideal for when you want something sweet to satisfy your cravings, without straying too far from your training plan.
With a deliciously smooth, creamy white chocolate coating and a rich, nutty centre, we just can't get enough of these indulgent treats. Each one provides an impressive 14g of protein too, making them a seriously tasty snack to help you hit your daily protein targets.
We guarantee that your workouts will be a little easier to get through when you have these high-protein peanut butter cups waiting at the end of them.
Makes 6
Ingredients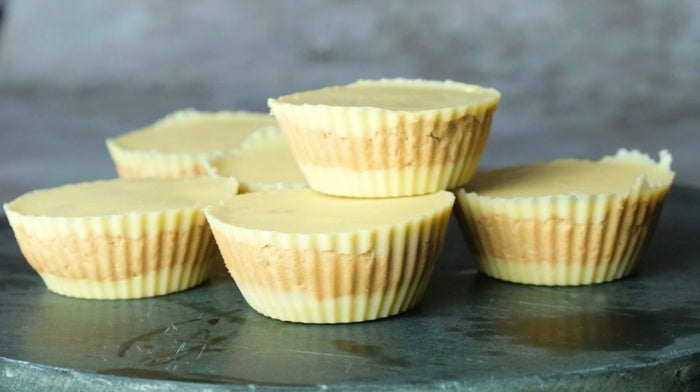 Method
First, prepare a cupcake tray with 6 cake cases. Then melt half of the white chocolate and pour a layer into each cake case. Chill in the fridge until set.
Now mix together the melted peanut butter, vanilla protein, and maple syrup — you should get quite a solid, almost dough-like consistency. Divide this into the 6 cupcake moulds on top of the white chocolate layer.
Add the remaining melted white chocolate on top of the peanut butter filling and chill in the fridge again until set, usually around 1 hour.
Enjoy immediately or keep in the fridge for when you're craving something sweet.
After more chocolate recipes? Try these next:
Lauren is an English Literature graduate originally from the South. She's always loved swimming, has discovered the power of weight training over the past few years, and has lots of room for improvement in her weekly hot yoga class. On the weekends she's usually cooking or eating some kind of brunch, and she enjoys trying out new recipes with her housemates – especially since shaking off student habits, like mainly surviving off pasta. Above all, she's a firm believer in keeping a balance between the gym and gin. Find out more about Lauren's experience here: https://www.linkedin.com/in/lauren-dawes-b4416aaa/