When we think about health, we consider our diet and exercise routine – but we can't forget to think about our sleep. When it comes to a healthy sleep routine, there are steps we can take to ensure we get more sleep and quality sleep. Some immediate changes to make are to cut out caffeine after lunch, creating a regular routine for when you go to bed and when you wake up, and taking supplements that support sleep. One of these supplements that can help to support sleep is magnesium.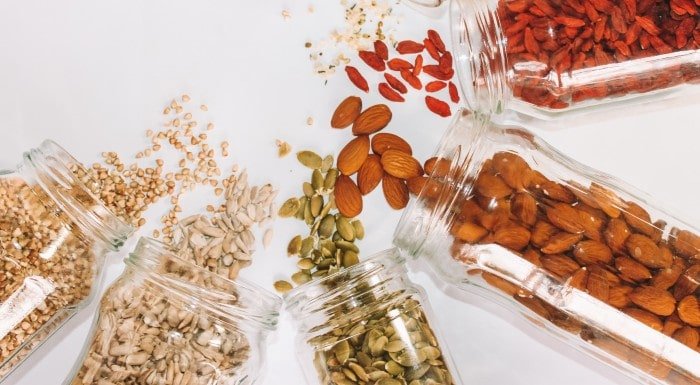 What is
magnesium
?
Magnesium is a micronutrient, specifically a mineral, that's commonly found in many of our daily foods. It's essential for overall health and used in over 300 metabolic reactions in the body.1 Magnesium supports the metabolism of the macronutrients into ATP, or energy. It also supports heart health and is essential for bone formation.2 Magnesium has also been shown to help combat insomnia and benefit sleep.3
 
How does magnesium help you sleep?
Magnesium can help you sleep in a variety of ways. Magnesium supplements have been shown to increase melatonin levels, a hormone that helps to regulate your sleep cycles.3 Another study showed that magnesium intake led to lower levels of stress (both mental and inflammatory), which can have a great impact on improved sleep.4 
Suboptimal levels of magnesium have been linked with insomnia, defined as difficulty falling asleep, staying asleep, and poor-quality sleep.3 Chemically, magnesium increases our levels of GABA (gamma-aminobutyric acid), and binds to its receptors, which helps to calm brain activity, essential for good sleep.3  
Magnesium is also used as a homeopathic treatment for many mental health disorders, including depression.5 Many studies have been done on this potential health benefit of magnesium, but the actual mechanism of action is not yet determined.6 
Getting adequate magnesium to support healthy sleep can have a great impact on your mental and physical energy, both in and outside of the gym. 
Magnesium dosage to aid sleep
The recommended daily intake for adult men (between 19-50) is 400-420mg per day, and for adult women (ages 19-50) is 310-320mg per day.7 Research shows that most people get more than half this amount in their average food intake, so aiming for a dosage of about half the RDA for sleep is reasonable.3 Studies showed supplemental doses between 200-400mg with no negative effects.3,4 
Want more sleep tips? Try these:
Roll out your yoga mat and discover the benefits yoga has to offer.
Take home message
While many lifestyle factors can influence our sleep, magnesium is an essential mineral that may play a larger role than you realise, especially when it comes to helping you sleep. Using a magnesium supplement to aid your sleep may help you fall asleep easier, stay asleep, and feel more rested and ready to take on the day – and your next workout.