Big fan of an extravagant breakfast, but want to keep your nutrition on track? Bursting with blueberries, creamy peanut butter, and sweet syrup, your taste buds will be singing with excitement when this protein French toast plops onto your plate.
Made with our Impact Whey Protein, you can be sure that you'll be meeting your macros after digging in to this delightful breakfast. There's also 3 eggs worth of protein, as well as a little bit more from peanut butter and a smattering of healthy fats. Does a more balanced breakfast exist? We think not.
The best bit is, you don't have to spend ages slaving over a hot stove to produce the perfect breakfast combination. Soak, fry, flip, and serve to make delicious protein French toast you can have on-the-go, or at a more leisurely pace, depending on your schedule.
Now, what's French toast without a spice sensation in your mouth? We've mixed in a little nutmeg and cinnamon for a protein French toast to die for. Check out the recipe below…
https://youtu.be/rPQEgr8-CsI
Ingredients
Method
1. In a large bowl, whisk together 3 eggs.
2. Then, add the Impact Whey Protein, nutmeg, cinnamon, salt and milk to the bowl and whisk together until you have a smooth batter.
3. Next, soak each slice of bread in the batter, and heat the coconut oil in a frying pan or griddle.
4. Place the soaked bread in the pan and fry it for 3-4 mins before flipping and frying the other side until both sides are golden-brown.
5. Once cooked, transfer one slice to a plate and spread the peanut butter over the French toast and sprinkle with blueberries.
6. Place the other slice of French toast on top and decorate with maple syrup, more blueberries and some peanut butter for a truly decadent breakfast.
Nutritional info per serving:
| | |
| --- | --- |
| Calories | 447 |
| Total Fat | 19g |
| Total Carbohydrates | 38g |
| Protein | 28g |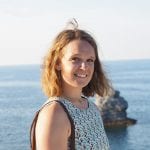 Evangeline is a Veganuary convert and newbie vegan with a degree in English and French from the University of Nottingham. Having recently ditched the meat and dairy, she really enjoys the new flavours and cooking techniques she's encountered on a plant-based diet. She's been shocked by the millions of ways you can use tofu, however still hasn't found a decent cheese substitute! When she's not in the office or eating, Evangeline usually out running or sailing. As a qualified RYA Dinghy Instructor and a marathon runner, she knows the importance of providing your body with the right nutrients for endurance sports as well as a busy lifestyle. Find out more about Evie's experience here.