You know those mornings where you wake up late and you literally have 10 minutes to get yourself ready and out the door? We all have those mornings. So, what if there was a way to get in a quick breakfast on the go? 
A lot of you ask if having a protein shake for breakfast is a good thing. Although you can get a wide range of vitamins and minerals from food, a protein shake can be a very handy way of ensuring you still get these without having to skip breakfast or reach for that pastry. 
Choosing a good protein shake for breakfast can be tricky as there are plenty out there to choose from, so which is the best for you to enjoy for breakfast?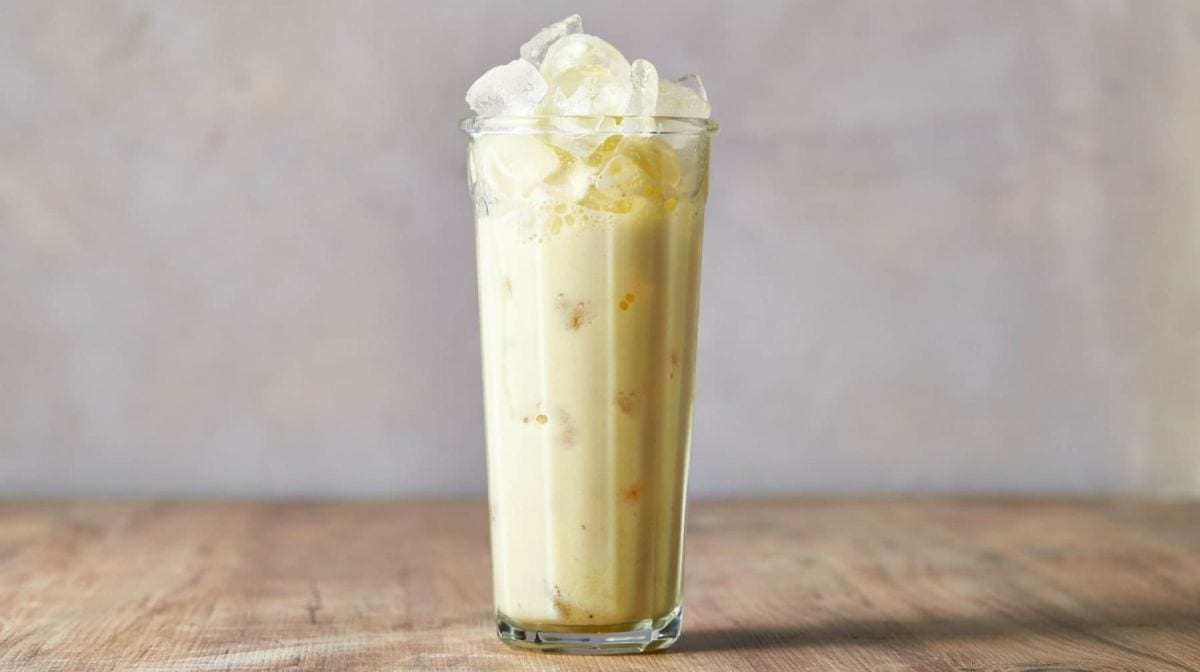 Why breakfast is a good time for a protein shake
They say start as you mean to go on, so make sure you start your day with the right breakfast. There's plenty of research showing how eating breakfast can be beneficial in aiding weight loss and in helping improve mental performance.1,2   
Other studies how that having protein in your breakfast can be beneficial in helping to suppress your appetite and crush any cravings you may develop later in the day.3 
A lot of people skip breakfast or struggle to eat as much first thing in the morning. Although a protein shake is not a substitute for a healthy balanced meal, it can be used to supplement your diet to ensure you hit your daily protein requirement. For example, you can add it to a smoothie with other food to add up the nutrients of a whole meal.  
How much protein should I have daily?
The reference nutrient intake (RNI) per day for adults is currently set to 0.75g per kilogram of bodyweight.4 So, for someone who weighs 60kg, the amount of protein for them a day to aim for would be on average 45g per day. 
If you're looking to build muscle this dosage may increase slightly more up to 2.2g of protein per kg.5
The reason for this is that your muscle fibres are being damaged during exercise, so it's essential to consume more protein in order to rebuild and support growth of new muscle tissue. 
Lean sources of protein in your diet include chicken, turkey, fish, eggs, low-fat dairy, beans and other pulses. A protein shake offers a good amount of protein in a smaller volume of liquid in comparison to the equivalent amount in order foods. It's also a convenient way to hit your daily requirements especially for those of you who struggle to meet this. 
Different protein powders you can have for breakfast
Protein powders are a very beneficial way of supplementing extra protein into your diet and a great addition when eating on a budget. There are many different types of proteins available, some more useful to have at breakfast than others.  
1. Whey protein
This is one of the most common types of protein powders available and is a natural by-product of cheese making. There are three main types, whey protein concentrate, isolate and hydrolysate.  
Whey protein concentrate is the most commonly used of the three. Per 100g you have 80g of protein, 5g of carbohydrate and 3g of fat.  
Whey isolate has a higher amount of protein per 100g, with an overall amount of 90g. It also has less fat and carbohydrates than concentrate. This is because it's more refined for better purity and is often a better option for those really limiting their fat and carbohydrate intake. 
Whey hydrolysate is also a more refined protein and is absorbed quickly by the body, making it a great option if you're looking to re-fuel your muscles as fast as possible after a workout. 
So, your preference will probably depend on what your goal is. Opting for whey protein concentrate may be best for someone wanting to build muscle as the extra carbs and fat can be beneficial for this too, whereas isolate may be better for someone look to lose weight and wanting to limit these. 
While these options are all great, to make it match the optimal macronutrients of a meal, you may wish to add other ingredients such as carbs and fats. Fruits, nut butters, and oats are good options for this. 
2. Plant-based protein powders
Plant-based proteins can be a good option for anyone — even if you're not vegan — as studies have shown they can be just as beneficial in helping to build muscle as other forms of protein.6 If you struggle from a dairy intolerance, or simply want to limit your intake, then a plant-based protein powder could give you the same benefits as whey. 
It's important to choose a plant-based protein powder blend containing a fuller amino acid profile. This may mean picking a blend of two proteins, or opting for soy which is a complete protein. If you're looking to give it a quick boost of energy, you can add some fruits, vegetables, seeds or even spices to make it a delicious breakfast smoothie.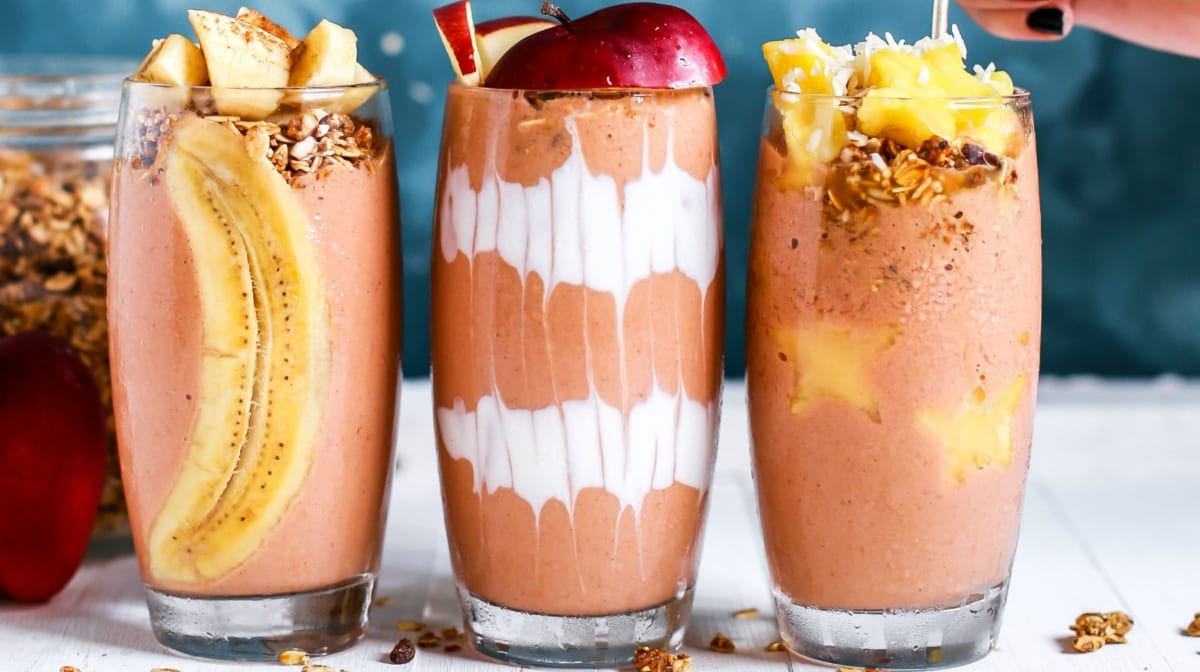 Good additions to your breakfast protein shake
To make your breakfast smoothie more nutritious in the morning, why not consider adding a few of these examples below: 
1. Berries – rich in antioxidant vitamin C that helps to keep our body and cells healthy. Add a handful into an unflavoured or flavoured shake to give it a boost in taste too. 
2. Ground nuts and flaxseeds – rich in vitamin E and selenium, that helps to keep your immune system working in order. Try adding 1-2 tbsp into your breakfast shake. 
3. Spinach or kale – both greens, helping you to get one of your 5-a-day in and rich in an array of vitamins and minerals. 
4. Banana – a good source of potassium helping to regulate muscle contraction and nerve signalling. Try blending one in with your breakfast shake in the morning and get one of your 5-a-day in too. 
5. Oats – a good wholegrain source of carbohydrate rich in fibre helping to keep you fuller for longer and helps to also sustain the release of your blood sugar levels throughout the day. Try adding a few tablespoons into your shake in the morning. 
Take home message
Having a protein shake for breakfast isn't harmful to your health in anyway regardless of your goal being to gain muscle or lose weight. It is much better than skipping breakfast overall or reaching for a pastry or something unhealthy on the go. 
There is a wide range of protein powders available and you can even try experimenting with some vegan options too. Adding some spinach or berries to your breakfast protein shake is a great way to boost the nutritional profile of your shake in order to best support your immune system and health overall.