---
Winner of 'The Best Sports Nutrition Product' in the European Specialist Sports Nutrition Awards 2019.
Clear Whey Isolate is not just another protein shake. We've taken high-quality hydrolysed whey protein isolate and created a light and refreshing alternative — that's more like juice than a milky protein shake.
We've torn up the rule book and changed the game when it comes to how protein shakes are done around here. Whey just got a seasonal makeover to transform it into one seriously refreshing drink.
Our Clear Whey Isolate is a low-sugar shake that delivers an impressive 20g of protein per serving — and will be coming soon in four more new fruity flavours including, Bitter Lemon, Mojito, Peach Tea, and Rainbow Candy.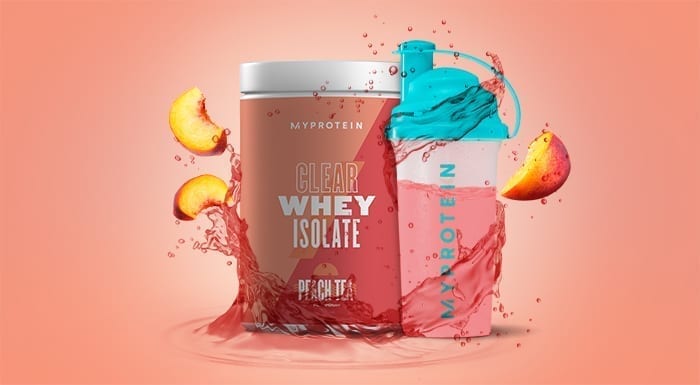 Warmer weather workouts are here, which means this is the perfect time to try switching out your classic, creamy shakes for this innovative alternative — every bit as smooth-mixing and packed with protein, just with a burst of tangy flavour.
We spoke to Gareth Gray, Head of New Product Development, about this exciting new launch.
"Clear Whey is an excellent example of innovation, enabling us to provide a whey protein that delivers a clean, refreshing taste — breaking away from the protein milkshake stereotype. It's the first of its kind, and something we're really excited to offer to our customers."
Simply mix up a scoop with water, shake and leave to settle for 15 seconds, then enjoy. If you're feeling really extra, you could even serve poured over ice… if that isn't a great poolside beverage, we don't know what is.
It's getting 5-star reviews

Here's what some of our customers think about this exciting new innovation after trying it for themselves.
Rossibop — "Best Protein Ever ⭐⭐⭐⭐⭐"
Mixability: ⭐⭐⭐⭐⭐
Taste: ⭐⭐⭐⭐⭐
Effectiveness: ⭐⭐⭐⭐⭐
"I've been taking Impact Whey for years and was intrigued by this. If you are bored drinking milky shakes then 100% switch to Clear Whey! I got the Orange & Mango flavour which tastes incredible and is much more refreshing after a workout.
Al – "A Game Changer ⭐⭐⭐⭐⭐"
Mixability: ⭐⭐⭐⭐⭐
Taste: ⭐⭐⭐⭐⭐
Effectiveness: ⭐⭐⭐⭐⭐
"One of the best products Myprotein has produced by far. Light, refreshing and perfect for after the gym. 87 cal and 20g of protein per serving is a genuine game changer. It mixes very easily and tastes great!"
Why do I need protein?
So you're sold on the tantalising taste of Clear Whey Isolate, but not quite sure why you need a protein shake. Don't worry, we're here to clear things up for you…
Before we even get into the fitness side of things, protein is a vital part of your daily diet as it helps to keep things working the way they should. It's involved in the production of hormones and enzymes, and is a component of every cell in the body — it's a building block of muscle, cartilage, hair, skin, and nails.
That's why a protein shake can be such an important addition to your training routine — as it helps to grow and maintain muscle,1 supporting all the effort you put into your workouts.
Nutritionist Jennifer Blow says, "Protein is a vital macronutrient in the diet. The average requirement for a sedentary adult would be around 45-55g per day, but for those looking to muscle-up this could be up to 130g of protein per day, for the average 70kg individual."
Want the full scoop on the benefits of protein shakes?

All that's left to do is find your favourite flavour!
Our articles should be used for informational and educational purposes only and are not intended to be taken as medical advice. If you're concerned, consult a health professional before taking dietary supplements or introducing any major changes to your diet.
Protein contributes to the growth and maintenance of muscle mass.