At 5'3" tall and with extraordinarily short legs, I never considered myself to be built for sport.
That doesn't mean I lacked the enthusiasm or competitive nature to try though. I've sailed competitively, played netball, tennis, and even basketball over the years, but always put my failings down to not quite being tall enough, strong enough, or fast enough. That's until I took up running.
I started running 3 years ago when I was home from university and couldn't get to a gym. After 3 weeks, I was running 5km, and about 3 months later I ran my first 10km. It's safe to say I was hooked on running, but I still would never have considered taking on a half marathon, let alone a full one.
So, what changed over the next two years? I still went to the gym, and also took up cycling, but I was no fitter when I decided to take on a marathon than I had been before. What had changed was my belief in what I was capable of.
Taking on solo sports had changed my perception of improvement — I'd stopped comparing myself to other people who were stronger, taller, and faster than me and instead focused on my own achievements and improving myself.
By seeing my own progress as something to celebrate, I'd built up the confidence to take on bigger challenges. I'd also realised that being a good runner didn't mean having a specific body shape or a fast lap time.
I signed up for the marathon in September, started seriously training at the end of October, and was injured by Christmas. After a month off and eating my bodyweight in turkey dinners, I started again from scratch with 1-mile runs.
Months of training and a couple more knock backs (mainly knee pain and tantrums about running in the snow), I finally made the start line I never thought I'd be at — and then I made the finish line too.
Here's what I learned from running my first (and possibly last) ever marathon…
I understand myself so much better than I did before
My brain is a massive pessimist. When I started out running 3km distances, my brain would beg me to stop. When I was doing 10-mile training runs, it would be screaming at me to stop — and sometimes I'd listen. That was that. Run done.
By the marathon I was prepared for every negative thought my brain could throw at me. I knew it would hit back hard at 20 miles as this was previously my furthest distance. I was ready with my biggest weapon — me.
I may have previously only run 20 miles, but I'd also dragged myself from an injury-ridden zero miles to a strong 20 miles in three months. I had it in me to run for one more hour. The hardest bit was going to be persuading my brain.
I know it's weird to separate my "brain thoughts" from my "me thoughts", but this allowed me to start categorising and defining the instinctive "stop running you're hurting yourself" thoughts and fight back with considered and positive responses like "look how strong you are, you can keep going". It also gave me something to fight against other than myself.
The biggest battle you'll have all the way through will be inside your own head. Pain or no pain, that's what decides whether you keep going or stop. The important thing is being able to recognise the negative thoughts and push them back with positive ones.
It's going to hurt
The sooner you get over this the better. It took me a while not to freak out every time something started to hurt a little bit, but it's rarely as bad as you think. At mile 14 of my marathon I had a minor panic that it was all over when my "bad knee" started really hurting. By mile 16 it didn't hurt at all. It still didn't hurt one, two, or three days after the marathon.
When you're running for hours, your mind can get wrapped up in feeling every minor niggle. By focusing my mind outside of my body as much as possible, the pain I was feeling was secondary to everything else I was experiencing.
I'm not saying you should ignore a serious injury, but it's worth asking yourself if it's really as bad as your brain is making you think it is. Also, you can rest for weeks as soon as this is over, so you can afford to push it a little bit more. Remember people have run marathons on broken bones and lived to tell the tale…
Don't expect to feel a certain way
Before I ran the marathon, a few people tried to tell me what it would be like and how it would feel. I heard everything from "the most amazing feeling" to "the hardest thing I've ever done — don't expect to enjoy any of it."
What I learnt is that it's a very personal experience that left me feeling a whole muddle of emotions. I think a lot of it comes down to why you're running, whether you're running alone, and how your body deals with it.
On the start line, I decided that my finish time wasn't as important as enjoying myself, so that was my focus all the way round. There were tough points, but I ran as much as possible with a smile on my face.
The most surprising emotion hit at about halfway when I found I couldn't think about finishing without welling up and losing the ability to breathe. I mean my throat actually closed up and I couldn't physically get air into my lungs — not ideal at the best of times, let alone when you're running a marathon.
The only thing I can put this down to is being completely overwhelmed. I was really enjoying myself, proud of my body and my mind, relieved that after every injury I was still there running it, and I was also in pain and pushing myself to what felt like my mental and physical limits.
If you can think of another emotion to sum all that up better, then please let me know, but I don't think there's enough words for how running that far — and the atmosphere around an event like that — can make you feel.
There are some wonderful people in the world
I ran for charity, so had already been delighted by the generosity and support of my family and friends. What I wasn't ready for was the love and support I received from complete strangers as I ran the marathon.
I wouldn't have enjoyed it half as much, or done as well as I did without the people who lined the streets to cheer on the runners. These people got nothing in return but a breathless "thanks", but they helped me onto the next stretch of the road. They reminded me that I was doing an amazing job when I couldn't do it for myself.
If you only take one thing away from reading this, it should be to plaster your name as large as you can across your chest. People will cheer your name and that's a pretty great motivator!
You're going to feel a little lost afterwards
Post-marathon can be a little anticlimactic to say the least. You go from people cheering your name, eating the feast of your dreams, and being buzzed on endorphins to falling asleep in front of the TV at 8pm and aching everywhere.
I'm going to ignore the crazy people who signed up the night before here and concentrate on the runners who have been training for months for this. We've given up our evenings and weekends to pound the pavements, spending hours in the pouring rain and freezing cold just to run this 26.2 miles.
All of a sudden it's all over — there's nothing to fill your evenings and nothing to train for. I didn't get why people could get addicted to marathons until a few days after it was all over. It's about setting yourself a new challenge and having something to work towards.
I won't be signing up for another marathon just yet, but I have got back on my road bike and signed up to a sportive next month. If you can run a marathon, think of all the other cool things you could do — don't let being down about the end of one thing stop the beginning of something new.
So, maybe you learnt a little about what to expect from your first marathon, or maybe you just learnt a heck of a lot about a short girl who (still just about) loves running. Either way, hopefully it'll make you realise that this doesn't have to be the most suffering you've ever been through. Remember, you've paid for that place, so you might as well get your money's worth and enjoy it.
Beat your brain, stay positive, and don't quit until you cross that finish line. You've got this.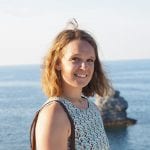 Evangeline is a Veganuary convert and newbie vegan with a degree in English and French from the University of Nottingham. Having recently ditched the meat and dairy, she really enjoys the new flavours and cooking techniques she's encountered on a plant-based diet. She's been shocked by the millions of ways you can use tofu, however still hasn't found a decent cheese substitute! When she's not in the office or eating, Evangeline usually out running or sailing. As a qualified RYA Dinghy Instructor and a marathon runner, she knows the importance of providing your body with the right nutrients for endurance sports as well as a busy lifestyle. Find out more about Evie's experience here.