Building muscle can often be hard. Everybody knows somebody who just has to look at the weight rack to get big, but for those not as genetically gifted, getting your muscle building supplement strategy right can really help.
If you want to make the most of your training sessions, then knowing how your body builds muscle, and which performance-enhancing supplements can support your specific goals, will be very helpful. Our list of the 6 best supplements for muscle gain, below, will help you to select the perfect choice for you.
Best Supplements for Muscle Building
1. Whey Protein
Whey protein has a particularly fast digestion rate, which means the amino acids contained in a whey protein powder will be available to build muscle shortly after you have consumed it.10 When you consume a protein source, the protein is digested and the amino acids enter the bloodstream. The faster the protein is digested, the faster the amino acids are available for use to build new muscle.10
Whey also has a high leucine content, which is needed to switch on your body's muscle protein synthesis processes (your body's ability to use protein for muscle growth).11
Due to its fast digestion rate and amino acid content, consuming a whey protein shake following resistance exercise further enhances the effect on muscle growth in comparison to resistance training without whey protein powder.12
2. Casein Protein
Casein is a protein found in milk and other dairy. Due to its slow digestion rate, it's been shown to prolong increased muscle protein synthesis (MPS) compared to whey protein.10
It's also been shown to reduce muscle protein breakdown, which is when muscle protein is broken down to be used for energy.13 This is important as it'll help your body to preserve the positive muscle protein turnover required for muscle gain.
Due to this, casein has been touted as a beneficial protein to have pre-bedtime, as it'll maintain increased protein synthesis even whilst you sleep.14
3. Protein Blends
Protein blends are shakes which contain both whey and casein and will, in theory, give you the best of both worlds. Whey protein will provide the initial high spike in muscle protein synthesis and the casein will help to prolong this increased rate of synthesis.15
In a study that looked at 10 weeks of resistance training, those who used a protein blend of casein and whey built more muscle than those only using whey protein.16
4. Creatine
Creatine is considered one of the best supplements available when it comes to building muscle.1 The evidence suggests that creatine supplementation can help you gain nearly twice as much muscle mass than if you didn't use it.17
The exact mechanisms for the increase in muscle mass are unclear when using creatine, however, it's speculated that these gains may be due to an increased capacity to perform a larger amount of high quality training.17
With full creatine stores, you will be able to push out extra reps and improve recovery between sets. In time, this will amount to more muscle gain. 17
5. BCAA
BCAAs, also known as branch-chained amino acids, contain leucine, which acts as a 'trigger' to enhance muscle protein synthesis rates.11
BCAAs have also been shown to 'rescue' a meal low in protein and provide a similar increase in muscle protein synthesis rates if taken alongside a meal low in protein.18
This makes BCAAs a great option for those looking to gain muscle whilst following a vegetarian or vegan diet.
6. HMB
HMB, also known as beta-hydroxy-beta-methylbutyrate, is naturally produced in the body following leucine consumption. Supplementing HMB alongside resistance training has been shown to increase muscle between 0.5kg and 1kg during 3-6 weeks of training.2
The current view is that HMB speeds up the muscle regeneration process following high-intensity and long-duration training and, like casein, helps to reduce muscle protein breakdown.2
The effects appear to be more pronounced in those with less training experience. This is due to it taking less training to damage the muscle tissue in a way that will be noticeable with HMB supplementation.2
The most optimal way to take HMB would be a dosage of 1.5-3g daily.2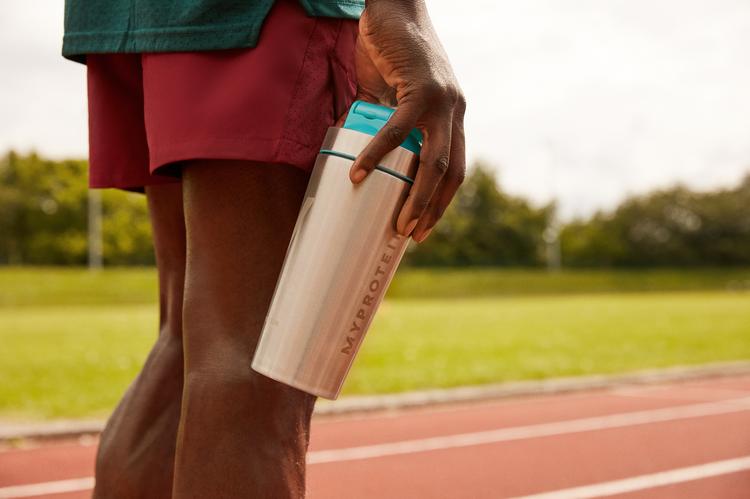 How do you build muscle?
In order to build muscle, you need to be in a positive protein balance, supplementing protein powder can help. In your body, there's a continuous muscle protein turnover, with periods of increased muscle protein synthesis (where muscle is built) and periods of muscle protein breakdown (where muscle is broken down for energy).
If your total muscle protein synthesis exceeds muscle protein breakdown, then you'll gain muscle mass. On the flip side, if MPB exceeds MPS, the overall result will be a loss of muscle.
You can easily increase your MPS rates if you have a high-protein diet, or perform resistance training, with a combination of both being the most effective.1
Summary:
To build muscle, you need to make sure that you're consuming enough protein and calories. This will ensure that muscle protein synthesis exceeds muscle protein breakdown.
Should I Just Eat Protein for Building Muscle?
Whilst protein can assist muscle growth, there are other supplements and nutrients, which can also aid this process. Macronutrients are especially important:
Protein
Eating a protein source that's rich in amino acids will increase your body's rate of muscle protein synthesis both at rest and after exercise.1
The evidence shows that, when combined with resistance training, a daily intake of 1.4g of protein per kilogram of bodyweight per day to 1.8g/kg/d will be enough to build muscle.2
If you're looking to lose body fat and build muscle, then that intake may need to be increased. Recent studies have shown that you can still build muscle even in a negative energy balance, providing your protein intake is high enough.3
In a recent study comparing 1.2g/kg/d to 2.4g/kg/d, the higher intake was more successful at building muscle mass than the lower intake.3
So really, you should aim to get in 2.4g/kg/d in order to enhance the likelihood of muscle gain in an energy deficit. Protein supplements are ideal to help you achieve this target.
Summary:
Protein is needed to build muscle, however, the amount you need will depend upon your goals. For example, you may need it to make up a higher percentage of your daily food intake if you're in a calorie deficit and want to continue to build muscle.
Carbohydrates
Evidence shows that combining protein with carbohydrates can accelerate muscle protein synthesis rates more than protein alone.4
Carbohydrate intake will also increase your glycogen storage. Carbohydrates are stored in the body as glycogen to be used for energy. This is important as any workout requires glycogen as fuel.5 Studies show that, during resistance training, glycogen can be depleted by as much as 40%.5
So, it can be beneficial to include carbohydrates in your diet to aid in recovery and boost muscle protein synthesis rates.
For those training with high volume, such as body builders, an intake as high as 5-6g/kg/d of carbohydrates has been recommended.7
Summary:
Carbohydrates are stored in the body as glycogen to be used for energy during exercise and throughout the day. You need to replenish these energy stores post-workout, so it's important that you include carbohydrates in what you eat after a workout.
Fat
When it comes to fat intake and muscle gain, the data is inconclusive.7 However, low fat diets have been shown to reduce testosterone levels, which may affect the amount of muscle gained.8
There's also some evidence to suggest that omega-3 supplementation can help boost muscle protein synthesis, as it makes muscle cells more sensitive to amino acids. However, the evidence is a little contradictory. The present view is that, when you've consumed enough protein, the effects of omega-3 supplementation on MPS is negligible. However, if you can't get enough protein in, then omega-3 supplementation may help.9
Summary:
While there's limited evidence on whether fats are beneficial for muscle gain, consuming omega-3 c could potentially help to increase muscle protein synthesis if you are consuming low quantities of protein.
Take home message
The best way to achieve muscle growth is with a combination of resistance training and an adequate daily protein intake.
Getting carbohydrates and healthy fats on board will also aid recovery and help you to keep training at the required intensity to build muscle.
By including the supplements listed in this article, you can increase the likelihood of building muscle and ensure all the hard work in the gym pays off. Have a look at our sport supplements here.