What is the Cross Body Hammer Curl?
The cross-body dumbbell hammer curl targets the biceps with an emphasis on the forearms. They differ from standard bicep curls in several ways. First is the angle of the lift, curl and direction your palms are facing. Secondly, they target different muscles.
Standard hammer curls develop your brachioradialis, the muscle on top of your forearm. Cross body hammer curls place more of a burden on the muscle between your bicep and tricep.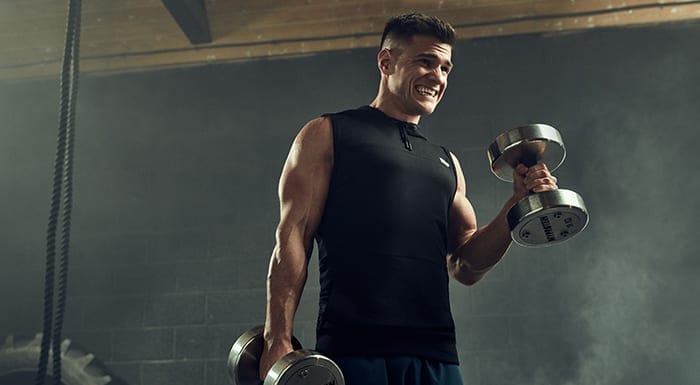 Preparation For A Cross Body Hammer Curl
To prepare for cross body hammer curls it's important that you pay mind to the aforementioned muscles that you'll be working. This is for two reasons: first to loosen the muscles and ensure there are no injuries waiting to happen, and second to get the most out of your hammer curls. At the end of the day, it's not just about taking part in an exercise, it's about developing your strength and muscles and ensuring you get maximal gains.
You will need to stretch your biceps, inner arms and also your pecs and obliques. While it may seem like an exercise that will solely work your biceps, think about the other parts of your body that will strain or be required for balance and support.
Next is preparing so that you get the most out of the exercise. One effective way to do so is commonly known as pre-exhausting your muscles, or in other words, a warm-up. Using light weights (very light) perform a set or two of standard bicep curls to pump up your arms. Aim for somewhere in the 15 to 25 region so that you don't entirely exhaust your muscles.
Follow this with some standing waist twists to loosen up so that you are not standing rigidly for the 'cross body' part of the hammer curls. When it comes to most bodybuilding and resistance training, one hand washes the other, so to speak. You may not realise it, but by doing one exercise you may be strengthening auxiliary, non-targeted muscles that support the action without you realising. This is why the aforementioned warm-up will help.
You may also throw in some press ups or light chest flies to warm up your pecs so that you're in peak condition when you come to lift.
Cross Body Hammer Curl Technique
Dumbbells are the best type of equipment to use. While barbells and kettlebells may offer advantages for other lifts, these you'll need dumbbells so that you can lift across your body. Begin by holding the dumbbells hanging at arms' length at your sides. The term 'hanging' doesn't mean your arms should be loose or swinging. Every movement must be intentional so keep your muscles taut even when that arm is not the one moving. Remain upright, don't bend with the movement at your waist. If you need to bend your back this could be a sign that the weight is too heavy.
Keep your palms turned to face your body when at your sides. Work with one arm at a time. Curl your arm slowly as you would with any other form of a standard bicep curl, bringing it up and across your body to the opposite shoulder. A good tip is to not lock your legs in a straight position. While your feet should be flat on the floor, you may bend your knees slightly as you curl. The exercise is not over at the height of the lift. You should lower the curled arm as purposefully as you lifted it.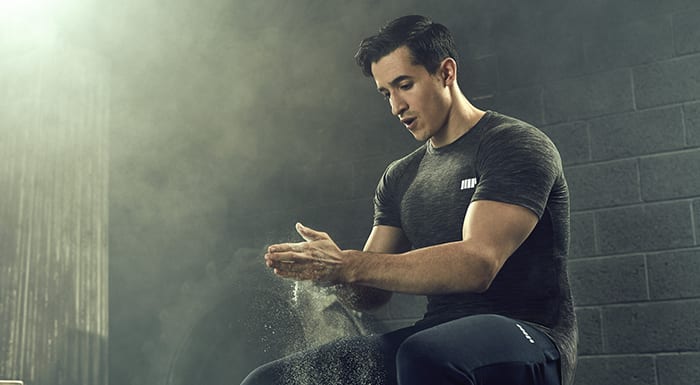 Recovery From Cross Body Hammer Curls
You have the option of heavier lifts at a lower number of repetitions, or lighter lifts with higher reps. The latter is most effective for pumping and definition, while heavier lifts are more effective for developing your strength.
Whichever you choose, your muscles, particularly your forearms and biceps will be pumped and be throbbing. During your sets you may vary the amount of rest in between, depending on your recovery capabilities. For example, if you are looking to shred, you may reduce your rest time to an even minute.
Following cross body hammer curls you should avoid other bicep-targeted exercises until the far end of your workout and preferably rest them for 24 hours before another session. Growth happens when you rest, and while high-frequency exercise is effective for smaller muscle groups, rest is as essential as nutrition. Your body will require protein and carbs in order to best recover after your session. Further to this, compression will have a considerable effect on both your lactic acid and inflamed muscles.